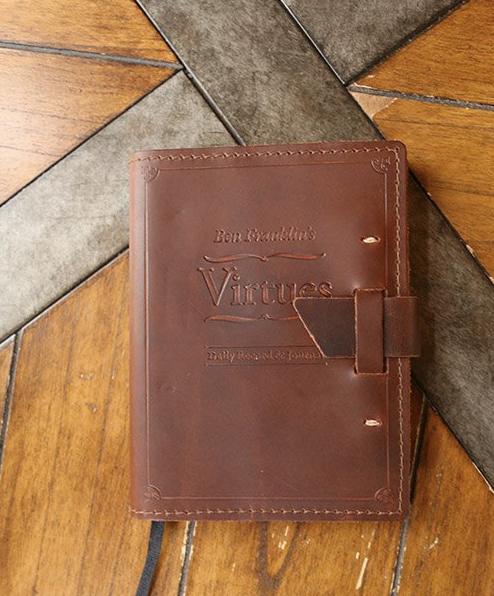 When we first introduced our exclusive Ben Franklin Virtues Journal a few years ago, it was an instant hit. Thousands of folks around the world have been using the journal to become better and more virtuous people.
The journal is so popular, it's been out of stock for awhile, but we just got a new shipment back in. Not only that, but if you haven't checked out the journal recently, we actually created a new and improved version last year that we'll introduce to you today.
What Is the Ben Franklin Virtues Journal?
Before we get into the updates, let's briefly look at what the Ben Franklin Virtues Journal is in the first place for those who haven't heard of it before.
This one-of-a-kind ledger combines Franklin's actual daily schedule with the 13-week self-improvement plan he created for himself as a young man. It's therefore divided into 13 weeks — one for each of Franklin's virtues — with each week containing an agenda and journal section for each day.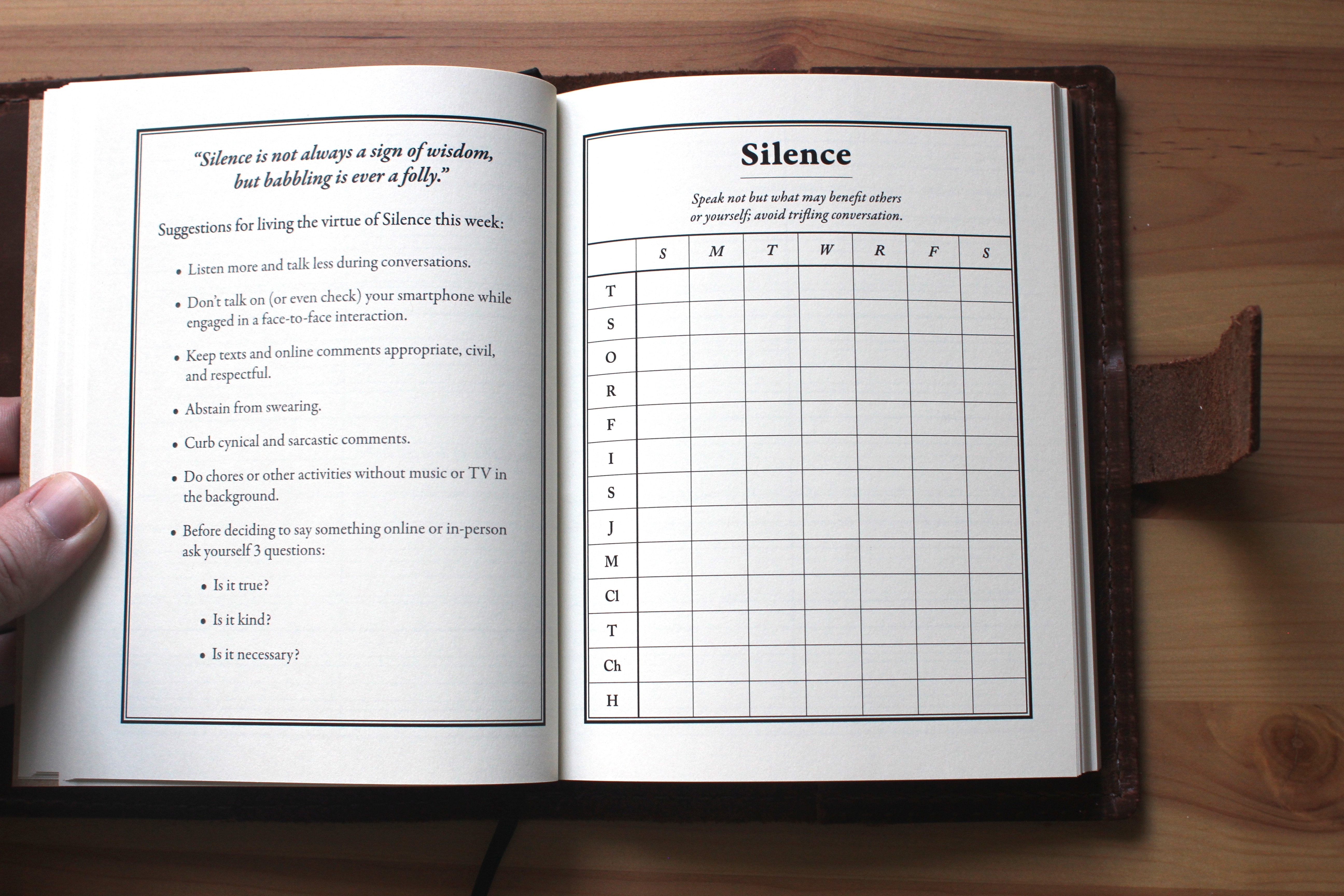 At the beginning of each week, you'll find a virtue chart, which consists of a column for each day of the week and 13 rows marked with the first letter of each virtue. Every evening, you conduct a personal evaluation on how you lived the virtues, and place a dot next to each that you violated. You'll also find a brief list of ideas for how to implement that virtue into your life. Ultimately, the goal is to minimize the number of marks you put in your charts, thus indicating your progress in cultivating upstanding character.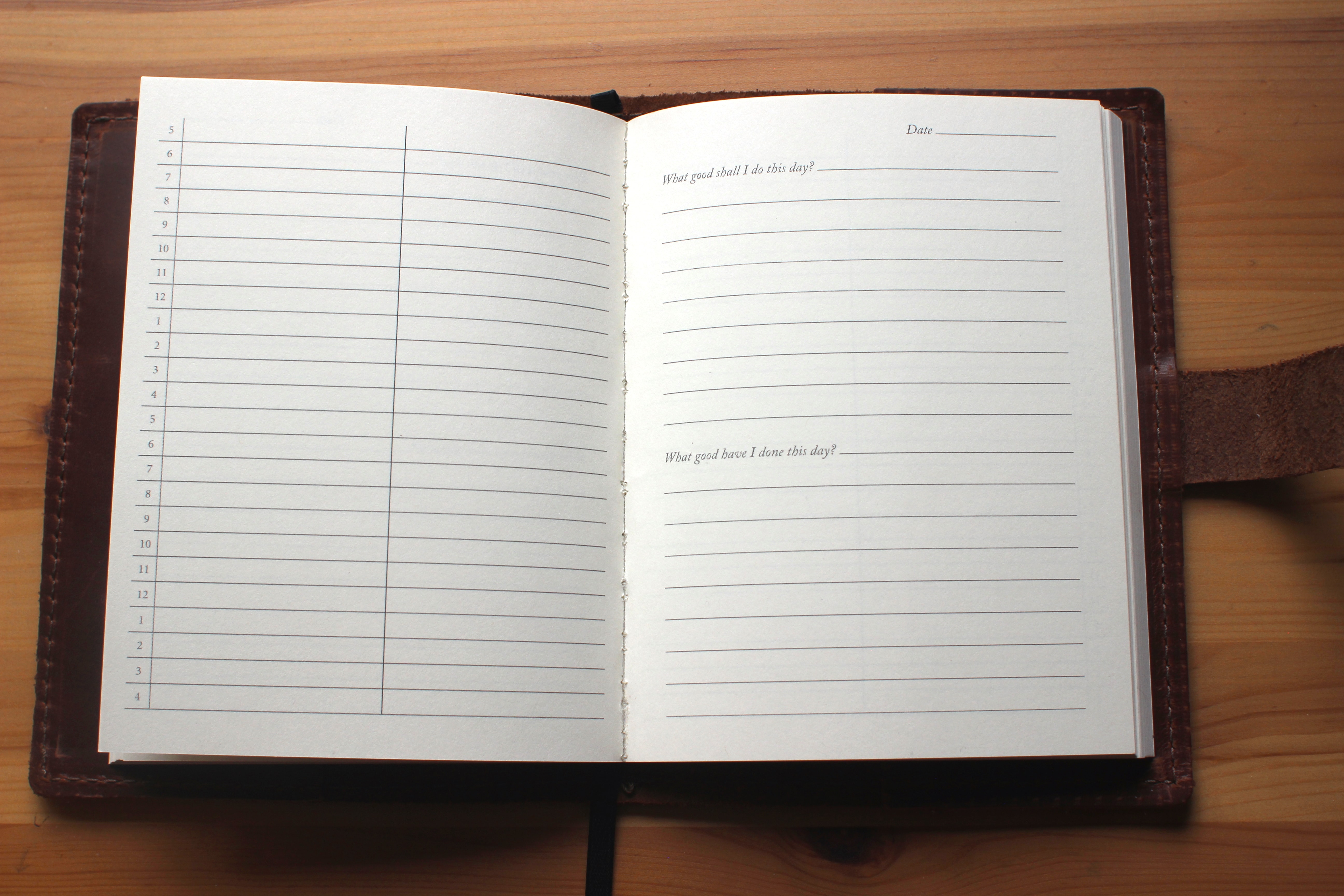 Each day of the week has two pages. On the left is a daily agenda, for planning or simply logging your activities. On the right is a lined journal for answering the questions Ben Franklin posed to himself each morning and evening: 1) What good shall I do this day? and 2) What good have I done today?
New Features of the Ben Franklin Virtues Journal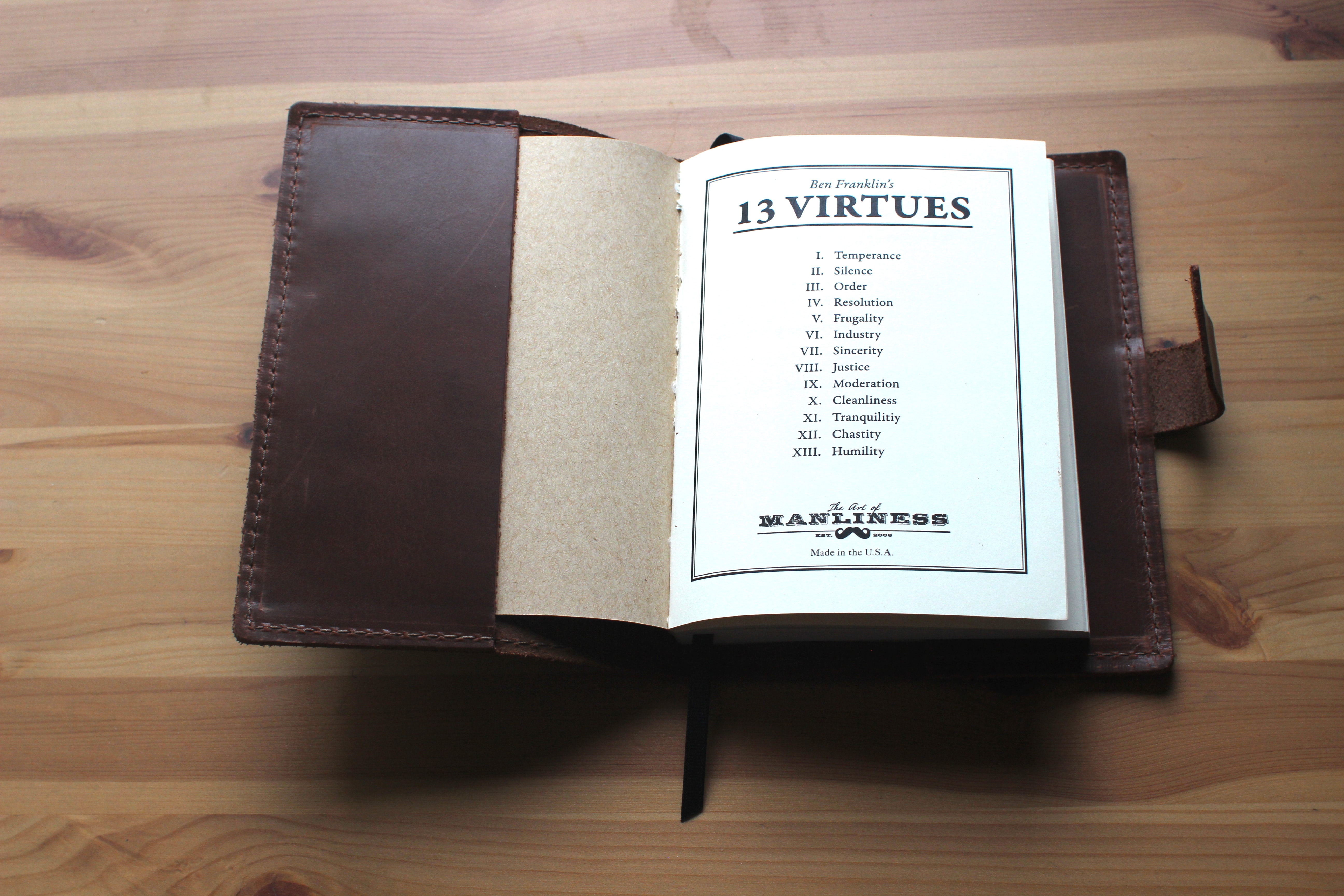 Updated size. The journal is now sized as most journals out there are: 5″ by 6.5″. This allows it to stay open more easily, and makes for more convenient and comfortable writing.
List of the 13 virtues. After production of the original design, we realized we never actually listed the 13 virtues at the outset for easy reference. That's corrected in the updated version.
Wider line spacing. The previous ledger had rather tight spacing between lines. While that wasn't necessarily a defect, the new spacing makes for less cramped writing.
Newly-sized pages = more room for writing. Even with greater spacing between lines, the new dimensions actually give you more room to write, especially on the "Scheme" or planning side of the journal. Use it to plan your week, track your time, or even write out your Rule of 3.
"It may be well my posterity should be informed that to this little artifice [virtue chart], with the blessing of God, their ancestor ow'd the constant felicity of his life, down to his 79th year, in which this is written. What reverses may attend the remainder is in the hand of Providence; but, if they arrive, the reflection on past happiness enjoy'd ought to help his bearing them with more resignation . . . I hope, therefore, that some of my descendants may follow the example and reap the benefit." —Benjamin Franklin
The updated Ben Franklin Virtues Journal is available for order now in the Art of Manliness Store for $54.99 for the journal + leather cover. After 13 weeks are up, you can work through the program again and again by ordering refills for $19.99. Also note that while we no longer sell the old version of the leather cover, we continue to sell refills for those of you who purchased the original journal.
Thank you for your continued support of the Art of Manliness!