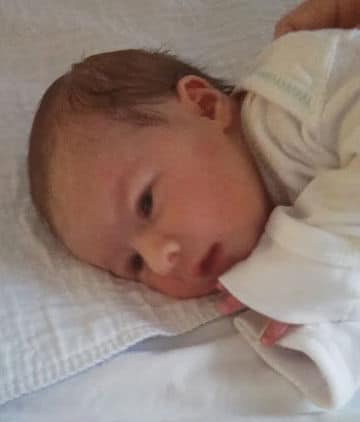 On Tuesday, August 20, 2013  at 3:54 PM Kate and I welcomed a daughter into our family. Her name is Olive Scout McKay. Olive is for Kate's Nana. Scout is for the character in one of our favorite books, To Kill a Mockingbird. We'll be calling her Scout.
Scout weighed in at 7 lbs 13 oz and measured 20 inches in length. She's a real cutie and I'm already over the moon about her. Mom and baby are doing great. Gus is taking to being a big brother well. He's giving Scout lots of hugs and kisses.
We're taking the next two weeks off to get to know this little girl (and to adjust to her erratic newborn sleeping schedule), so we won't be publishing anything new during that time. To get your AoM fix while we're away, check out our archives. We have nearly 2,000 articles on the site and you can spend hours browsing and reading the manly info we have there. If you're not sure what to read first, use the "Visit a Random Post" button on the top right side of the homepage. Or check out our Library of Random Man Knowledge — full of 5,000 manly factoids and quotes. That should keep you busy while we're gone! We look forward to seeing you back in September.
Kate, Gus, and I feel blessed and excited to have Scout in our family. Please give a warm AoM welcome to Scout McKay!