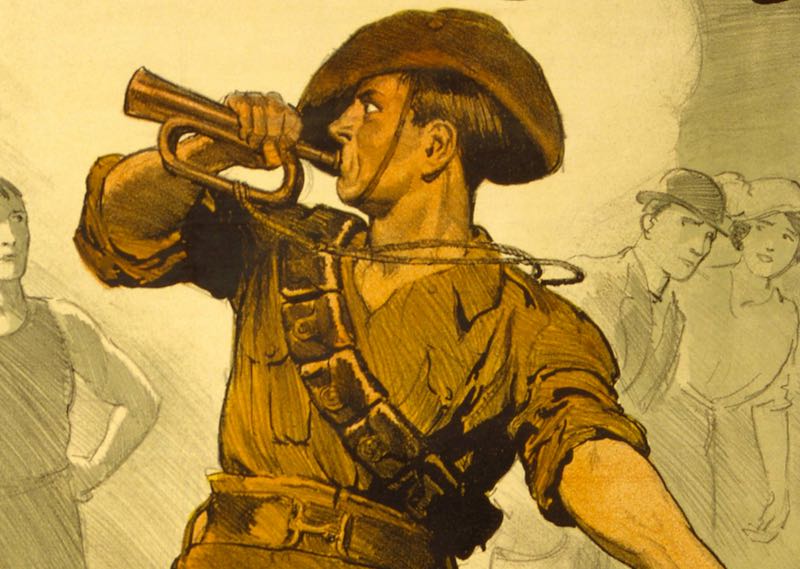 Note: The Strenuous Life is the "action arm" of AoM, a program that helps men put into practice the ideas and principles espoused in our articles and podcasts. If you're curious about what TSL is like, here's a peek at the September edition of
The Bugle
— the monthly newsletter that goes out to members. If you're interested in joining our ranks, the next enrollment, and the last of the year, opens next week. Be sure to sign up on strenuouslife.co to be the first to know when that enrollment opens.
Badge Work
How is your badge work coming along? Here's a sample of what your fellow members were working on last month:
@teejay smoked a brisket — seasoned with his own rub — for 12 hours, commenting, "Losing a night of sleep for this is always welcome." For the Penmanship Badge, @AVIDFLYER practiced proper paper placement, while @jmaddox copied, "If," "Invictus," and "The Joy of Doing," reporting: "I enjoyed writing these far more than I expected. I'm already thinking of other things I can copy out." For the Citizenship Badge, @obadiahhenry visited Poverty Point, LA, the ancient home of the mound-builder Indians along the Mississippi Delta. @klanza completed hours for the Community Service Badge by taking a group of foster kids fishing.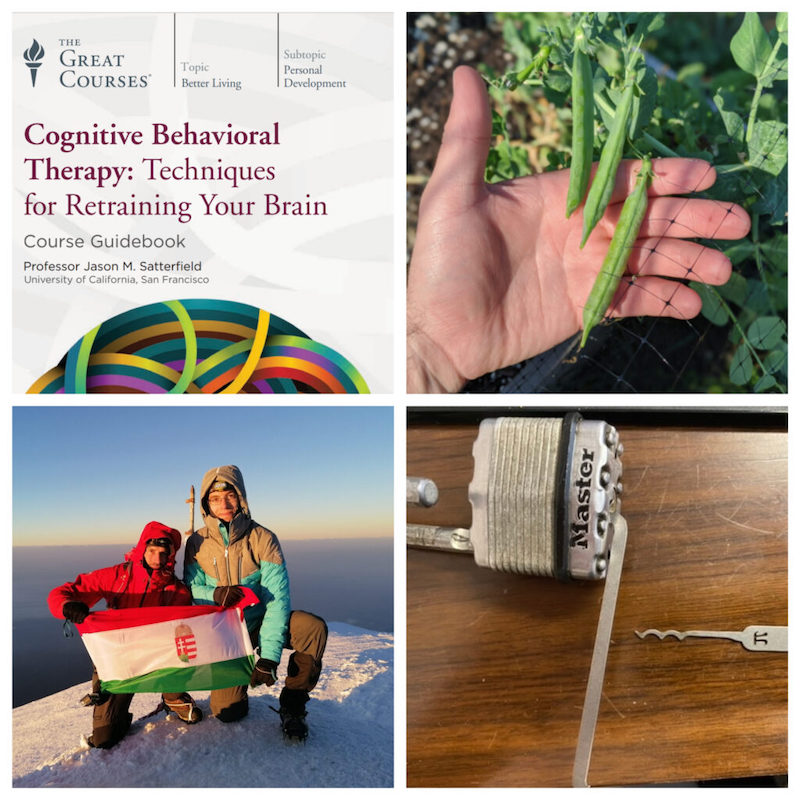 @redtp completed the Great Courses class on Cognitive Behavioral Therapy for the Gentleman Scholar Badge. @ashroades embodied the wide variety of possibilities in the Backyard Farmer Badge by planting peas, bush beans, tomatoes, onions, cucumbers, sweet potatoes, potatoes, carrots, winter squash, raspberries, and buckwheat this year. @bullypdx picked a tumbler lock in 15 seconds for the Lock Picker Badge. @dalyag knocked off a requirement for the Mountain Ranger Badge by completing a 3-day climb to the summit of Mount Ararat, the highest peak of Turkey; he describes the experience as "the most physically strenuous things I have ever done."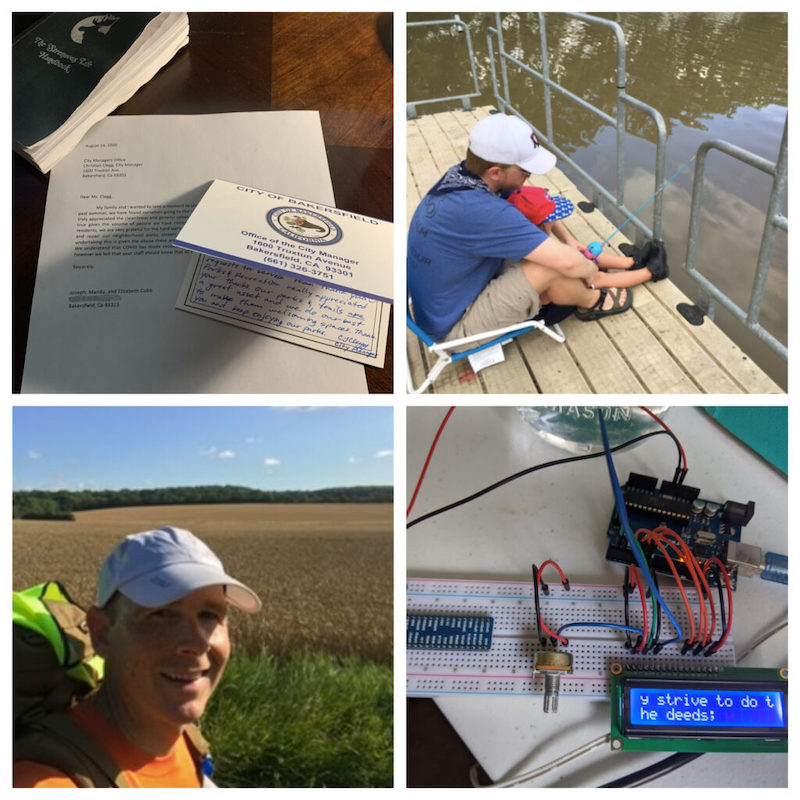 For the Letter Writing Badge, @joseph-cobb wrote a note to the "Bakersfield City Manager, thanking him and his Parks and Recreation staff for all the hard work keeping our parks in great shape, even with the COVID restrictions and increased use." In reply, the City Manager sent this note, "telling us that he shared our letter with his entire staff, and the impact it had on everyone." For the Microadventure Badge, @brand went fishing for the first time with his dad and kids. For the Hacker Badge, @taylorlowery made an Arduino project that displays some encouragement from TR. For the Scout Badge, @richardmroth marched 50 miles in two days, saying, "I hadn't rucked since leaving the Army in 2007 and really missed it. Thank God for TSL and this badge. My 50 mile march was like reconnecting with a best friend."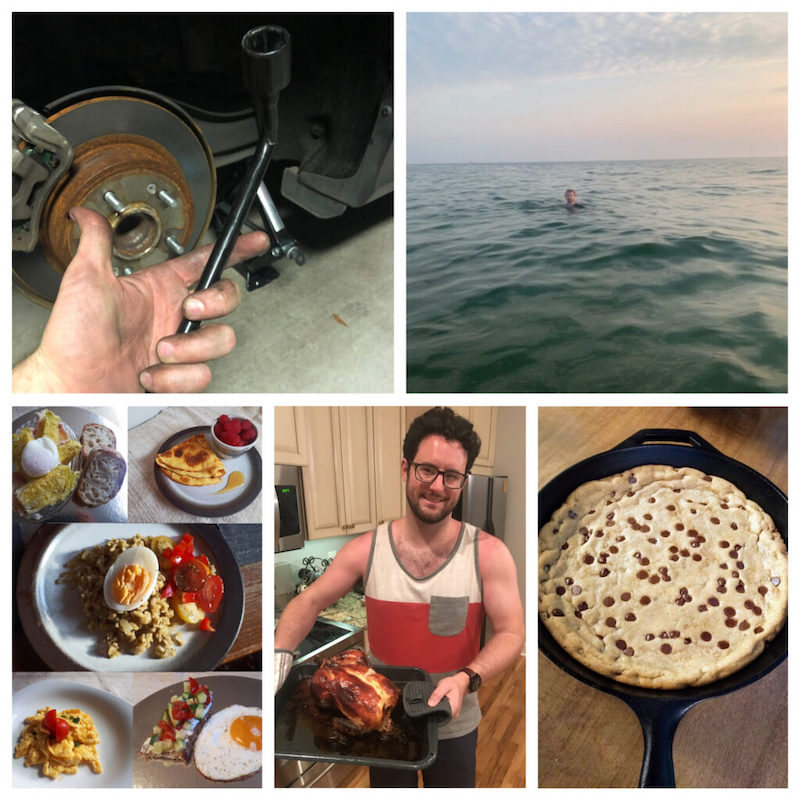 @willisgarrett rotated his tires for the Gearhead Badge. For the Frogman Badge, @franz treaded water with his clothes on for 20 minutes. In the Kiss the Chef kitchen, @jarof made eggs five different ways, @dstrem roasted a chicken, and @laloeb made a skillet chocolate chip cookie with this AoM recipe.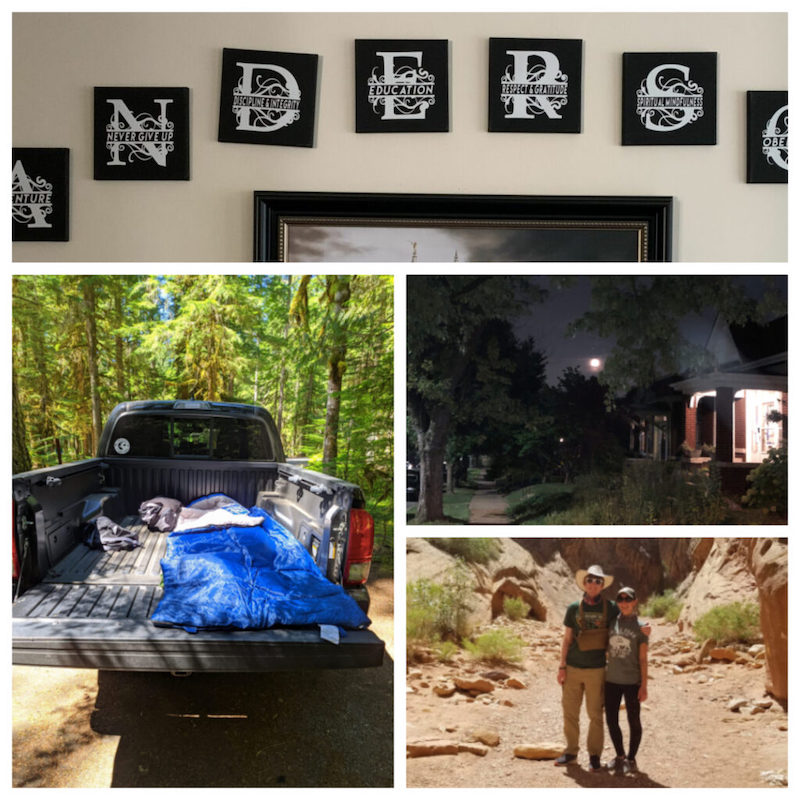 For the Pater Familias Badge, @coolhandluke created a family mission statement with his family, with qualities that correspond to the letters of their last name, while @Tretiak started a new tradition with his wife of taking walks during the full moon. For the Outdoorsman Badge, @matthew.holman completed the requirement of hiking 100 miles, while @thormo completed the requirement to camp out for 14 days and nights.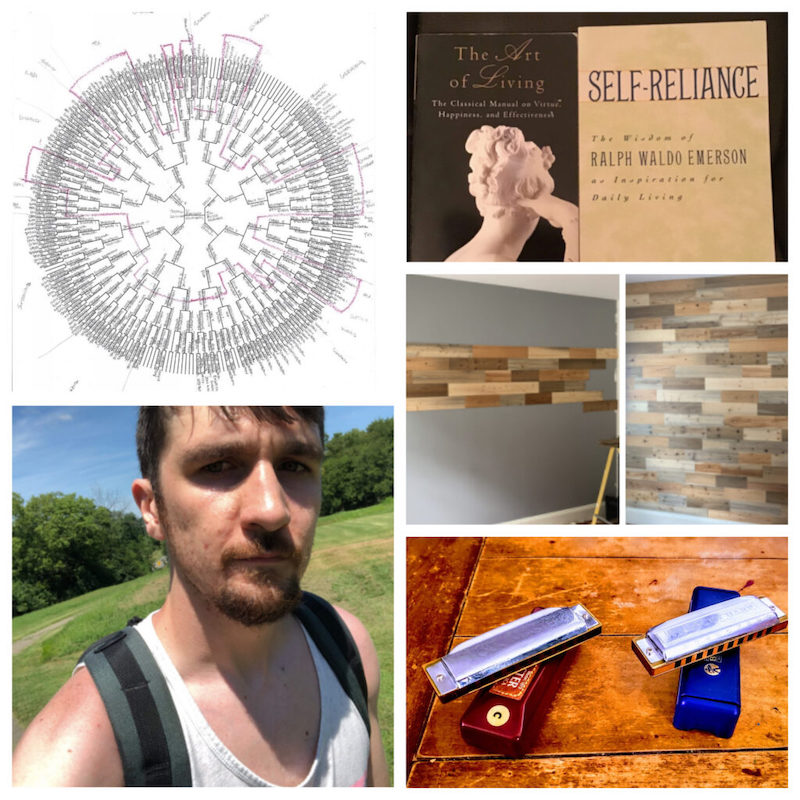 For the Ancestry Badge, @kellsworth traced his family tree back eight generations. For the Monk Badge, @pitocco studied Epictetus and Emerson. For the Handyman Badge, @musashi used reclaimed wood tiles to make an accent wall in his bedroom. For the Music Badge, @royalone played two songs on the harmonica for his family. For the Scout Badge, @patrickmetcalf walked 1 mile in 15 minutes with a 20-pound ruck.
Local Chapter Meet-Ups: Spotlight on Festivals of Strenuosity
Festivals of Strenuosity are regional, days-long, member-organized campout meetups, in which attendees share skills, work on badges, and enjoy camaraderie. Two such "Strenfests" took place last month:
2nd Annual East Coast Festival of Strenuosity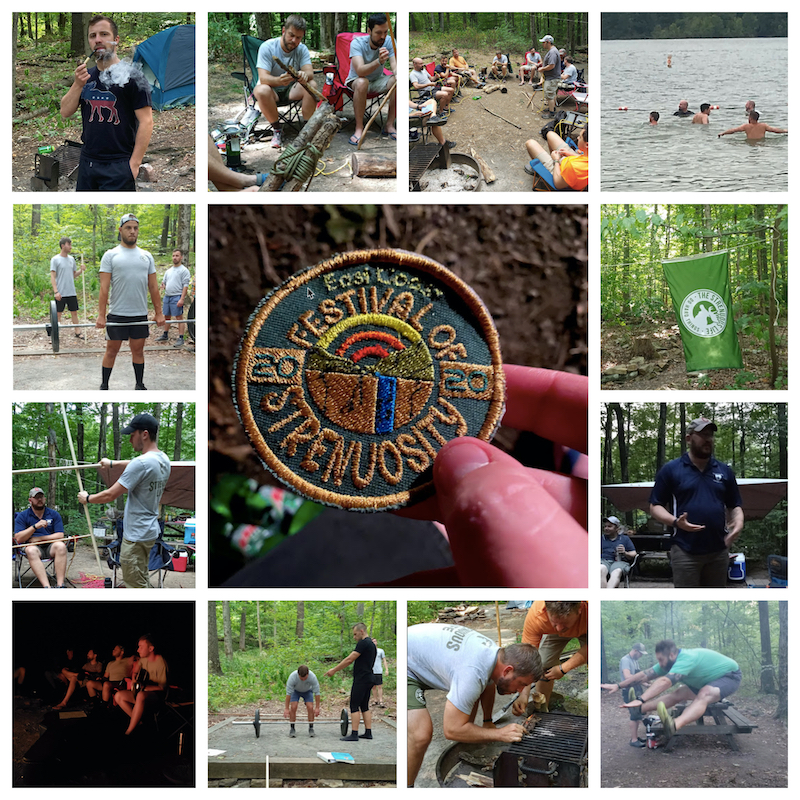 The eighteen attendees of the 2020 East Coast Strenfest camped at Bald Eagle State Park in Pennsylvania. Some stayed from Wednesday afternoon 'til Monday morning, with most staying from Thursday through Sunday. The men worked on numerous Strenuous Life badges: Frogman, First Aid, Knotsmanship, Astronomer (stargazing and identifying planets and constellations through a telescope), Orator (giving impromptu speeches in front of the group), Angler (though the harvest was scanty), and Sheepdog (escaping zip ties and duct tape). In a first-of-its-kind that I've seen, they even worked on the Barbell Badge by hauling in a barbell and plates, creating a human power rack, and performing the lifts at the campsite. Plenty of "unofficial" non-badge-related fun was had as well, with rucking, games of poker and chess, singing around the campfire accompanied by banjo and guitar, and plenty of good grub. A hearty salute to @averyb and @medbrian2002 for spearheading this great event, and to all the attendees for making it a strenuous success.
1st Annual Southwest Festival of Strenuosity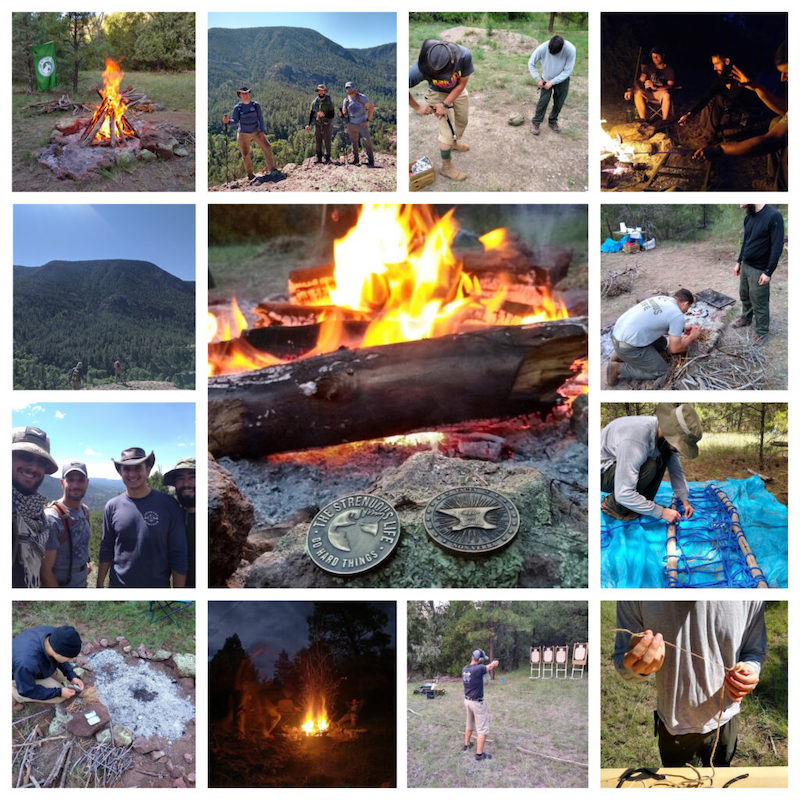 The first annual Southwest Strenfest also took place in August, and if smaller in number, this fledgling event lacked for nothing in strenuosity. Attendees camped out for four nights in the Blue Range Primitive Area of eastern Arizona, and put together very full days, packed with a series of badge-tackling workshops that covered Knotsmanship, First Aid, Scout (including making ranger beads and field estimates of distance, width, height, and time), Astronomer (including catching the Perseid meteors), Sharpshooter (discussing and practicing firearm safety and handling as well as working through the 5X5 pistol drill), hiking, and, since "all Strenfest meetups ought to involve at least one form of service," picking up three trash bagfuls of litter along the dirt road leading down the Blue River canyon.
Skills were learned, challenges were undertaken, friendships were formed and fun was had. As @gwalliman, the spearheader of SW Strenfest, reports:
There is a special quality to Strenfest that cannot really be described. It may be different for each person, but it's something that can only be found in a multiday camping trip such as this. You may sense it in a Strenuous Saturday overnight, but you won't truly know it until you've attended a Strenfest event proper.

I hope everyone reading this will find themselves inspired to attend, or host, a Strenfest event of their own. These events are, I think, the ultimate expression and the true goal of the Strenuous Life: meeting up with good men, and doing hard things.
The multi-media studded strenuosity report Garret wrote up was so epic he put it on its own website; it's worth checking out.
In addition to these Festivals of Strenuosity, regular local chapter meet-ups also took place last month, including in Idaho, Seattle, Tri-Cities Washington, Utah, Kansas, Germany, New Jersey, Ontario, and Arizona (even though the participants had already attended the SW Strenfest, they also did a separate overnight backpacking trip in August too — the Desert Rangers are always inspiring!).
The next Strenuous Saturday (the designated TSL meet-up day and the third Saturday of every month) is September 19th — head to the forums of your respective local chapters to see what's already been planned, or to start a plan yourself!
How Have You Become More Courageous Since Joining TSL?
I enjoyed reading the weekly "Manly Monday" discussion topic @thesonofugly started in Class 054. In his comments (which reminded me of this AoM article), he wrote:
Prior to joining TSL, I often found myself slinking away from difficult situations. This usually manifested itself in declining social events. I'm an introvert by nature and tend to prefer time to myself than with others and this was usually the excuse I'd tell myself when declining a beer after work with coworkers or local festivals when invited by friends. What I came to realize shortly before TSL was this was actually because of a lack of confidence. I thought lowly of myself (physically and skillfully) and assumed others had as well. TSL has pushed me to 'do hard things' that get me out of my comfort zone. I'm doing things that are not only for my benefit but for the benefit of others around me (family and community). It's giving me things to talk about when I'd otherwise not have anything to contribute. Prior to TSL, I'd never consider going to an event that I wouldn't know someone there. But with the meetups I've been to because of TSL, these kinds of things don't stress me out nearly as much.
Then he posed a good question for reflection: What are some ways you've been more courageous since joining?
Hopefully you're using the TSL program to lean into ways to get comfortable being uncomfortable, and to grow and experience much more of life as a result.
Keep living strenuously, everyone!
There never has been devised, and there never will be devised, any law which will enable a man to succeed save by the exercise of those qualities which have always been the prerequisites of success, the qualities of hard work, of keen intelligence, of unflinching will. –Theodore Roosevelt