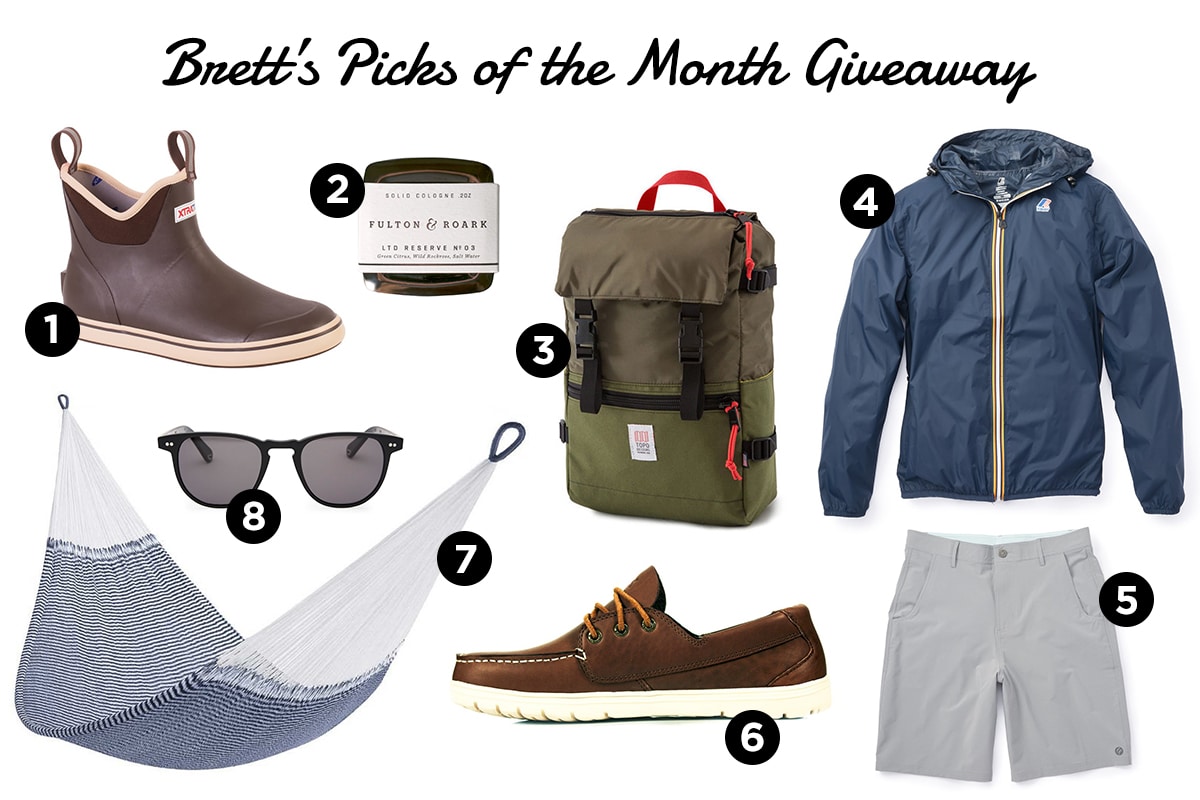 Below you'll find some of my favorite offerings from Huckberry this month. Enter the giveaway to win any of these items, or anything else available in their store (up to a value of $500).
Last month's winner was Cole from Alameda, CA. He chose the Compact EDC Kit. Will you take home this month's prize?
My Picks This Month
1. XTRATUF Deck Boot. It's said that everyone in Alaska has a pair of XTRATUFs. If those boots can handle some of the wettest, most treacherous environs on the planet, they can handle anything you might throw at 'em, from a morning walking commute to a wet spring hike.
2. Fulton & Roark Captiva. I've long been a fan of F&R's super convenient solid colognes. The Limited Reserve line features small batches of unique scents, and the Captiva — inspired by the Florida island of the same name — perfectly captures the essence of the season. Spring will literally be in the air when you're around.
3. Topo Rover Pack. The perfect bag for any day-long outing. It's lightweight, and has compartments for beverages, your laptop, and any other supplies you may need, be it a charger and a journal for hitting the coffee shop, or a pocket knife and a lunch for exploring the trail.
4. K-Way Claude 3.0. With spring rains come the need for a jacket that protects you from the elements, but also breathes a bit. Rain jackets tend to be stuffy, but not the Claude 3.0. It's not only breathable and lightweight, but it looks sharp; nobody wants to be the guy in the poncho who looks like he's wearing a garbage bag.
5. Free Fly Clothing. Who would have thunk that bamboo offered a host of natural qualities that would lend themselves to outdoor apparel? Free Fly has taken advantage of those properties to make bamboo clothes that are super soft and breathable, and offer UV protection, moisture wicking, and odor resistance.
6. Lems Shoes. If you need a new outdoor and/or all-around shoe, Lems is the way to go this season. They're super portable — the flexible soles allow them to easily roll into any convenient shape you might need. And they're also great for your feet — lightweight, stable, and comfortable.
7. Yellow Leaf Hammocks. Each hammock made by Yellow Leaf contains 3.5 miles of fiber. What does that mean? It's super strong — holding up to 400 combined pounds (watch the stars with your gal!) and super soft — it's made from weather-safe yarn rather than nylon like a lot of camping hammocks are.
8. Pacifico Optical Campbell. These Australian-made shades feature some of the best lenses on the market: polarized, shatterproof, glare-reducing, and scratch-resistant.
Special Discount for AoM Readers: 15% Off Chippewa Boots
As a special gift to AoM's loyal readers, Huckberry is offering 15% off on all Chippewa boots by using the coupon code "chip15" at checkout. The 6″ Service Boot is a classic, and the leather will only get softer with age, developing a nice patina along the way. The code is good through May 4th, 11:59pm Pacific Time. Grab a pair while you can!
The Prize
Any item currently available on Huckberry (up to a value of $500). Be sure to check out the current line-up of items as it changes every week.
Enter the Giveaway
If you are an email subscriber, do not reply to this email to make your entry. You must click on the title of this post, which will take you to the post on our web page where you can make your entry. Use the form below to enter. Don't forget! You have multiple ways to enter! The more of them you do, the better your chances are!
Monthly Huckberry Giveaway – April '17

Deadline to enter is Friday, May 5, 2017 at 5PM CT. We'll then select one random winner. Good luck!
Last updated: December 5, 2017