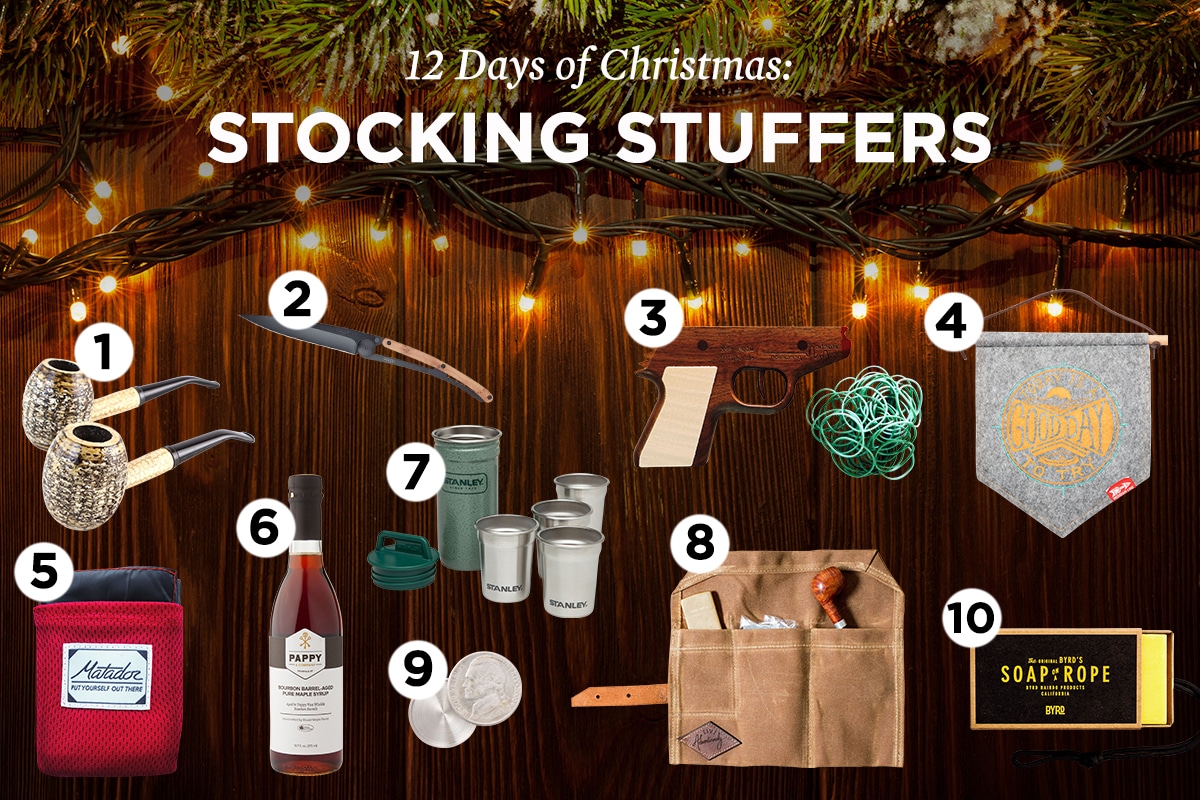 Stocking stuffers are arguably the most fun part of Christmas. The ten ideas below from Huckberry's Stocking Stuffer Shop run the the wide gamut of what one hopes to find in their yuletide sock from the practical to the delightful.
The 12 Days of Christmas: Stocking Stuffers
1. Missouri Meerschaum Corn Cob Pipe. This corn cob pipe has a classic design that is sure to turn heads. It has a large, barrel-shaped bowl with dark stain added to the coating, giving this pipe a unique and distinctive appearance. Not only does it look great, but it smokes great too!
2. Deejo Black Juniper Knife. Slice a few ounces from your EDC with Deejo's ultralight, minimalist pocket knives. The Black Series pairs black titanium-coated stainless steel with exotic woods in a knife that's handsome and tough as hell.
3. PPK Rubber Band Gun. Some childhood toys only get better with age. The Model PPK Wooden Rubber Band Gun from Elastic Precision is modeled after the classic Walther PPK handgun made famous by James Bond. While your aim may not rival his, you're sure to have much more fun (and with much lower stakes) turning your living room into a no-holds-barred shootout.
4. Meridian Line Good Day Banner. Everyday is a good day — it's up to you to embrace it. This banner will inspire you to find the silver linings in every single day no matter the obstacles.
5. Matador Pocket Blanket. The uses for a warm blanket that can fold up and fit into your pocket may be more than you'd think — from impromptu picnics, to warming up by the fire when the temperature suddenly dips. Keep this in your car, and always be prepared, whether it's for snuggling or for an unexpected roadside emergency.
6. Pappy Van Winkle Maple Syrup. The folks over at Pappy van Winkle's (maker of superb bourbon) tapped Bissell Maple Farm in Ohio for some of their pure, American-made maple syrup to age in retired Pappy bourbon barrels. The result is a one-of-a-kind syrup bursting with flavors of vanilla, butter, oak, and, of course, bourbon.
7. Stanley Shot Glasses. Stanley — legendary maker of travel mugs and coolers — has ventured into the shot glass market. And as you'd expect, they're tough as nails. Feel free to take the party outside, and keep it all together with the green steel carrying case.
8. Waxed Canvas Pipe Roll. Specifically designed for holding your pipe and all its accessories, this roll has pockets for your lighter/tamper, tobacco, and of course, pipe. Rather than tossing it all in a plastic bag, or worse, your humidor, give your pipe smoking supplies a permanent and sleek home.
9. Secret Stash Nickel. Your secret is safe in your pocket. The Spy-Coin Micro Nickel is a replica of the false coins that were used by spies in the days of microfilm, spy games, and dead drops. Use the coin to conceal a micro USB with your most sensitive data, or just as a fun way to trick your friends into thinking you're actually an undercover international espionage agent.
10. Soap on a Rope. Once a staple Christmas gift for men, soap on a rope has now become the butt of jokes. But I think it deserves a second chance. It's an amazingly convenient gift, especially for the man who showers away from home. This variety can be used on hair, face, and body for an allover clean no matter where you find yourself showering — be it beach, gym, or home.
Tags:
12 Days of Christmas
Last updated: December 21, 2017