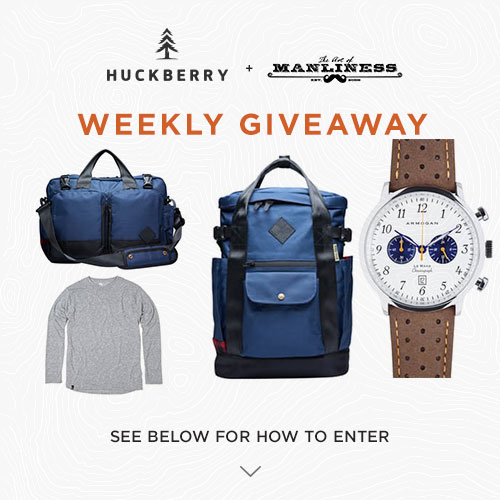 Last week's winner was Doug S. from Dallas. He chose the aptly-named Carry-On.
My Picks This Week
Woolrich is most well-known for their iconic, classic blankets. As of late, they've gotten into other markets though, while retaining their signature quality and design. This fall, they're rolling out a line of bags — backpacks and duffels — with Hill-Side. They're sharp and durable, and with a name like Woolrich behind it, you know these bags will go the distance.
With 100% of their wool sourced from their family-owned ranch in Montana, Duckworth makes clothing that's acceptable both on the ranch and in the city. Warm, breathable, moisture-wicking, odor-resistant, and soft, if you haven't yet acquainted yourself with the wonders of wool, Duckworth's offerings are a good reason to change that. This isn't the itchy fabric you're familiar with. Choose from long-sleeve and short-sleeve tees, button-up shirts, and even socks.
Another week, and another exclusive watch from Huckberry. Cue timepiece envy. From Armogan, the Le Mans chronograph design harkens to the iconic auto race and features a brown leather strap with navy blue dials. Whether you're putting it through the paces on the track or at an office, it's guaranteed to catch some compliments.
The Prize
Any item currently available on Huckberry (up to a value of $500). Be sure to check out the current line-up of items as it changes every week.
Enter the Giveaway
If you are an email subscriber, do not reply to this email to make your entry. You must click on the title of this post, which will take you to the post on our web page where you can make your entry. Use the form below to enter. Don't forget! You have multiple ways to enter! The more of them you do, the better your chances are!
Weekly Huckberry Giveaway 11.2.16

Deadline to enter is Thursday, November 10, 2016 at 5PM CT. We'll then select one random winner. Good luck!
Last updated: December 5, 2017