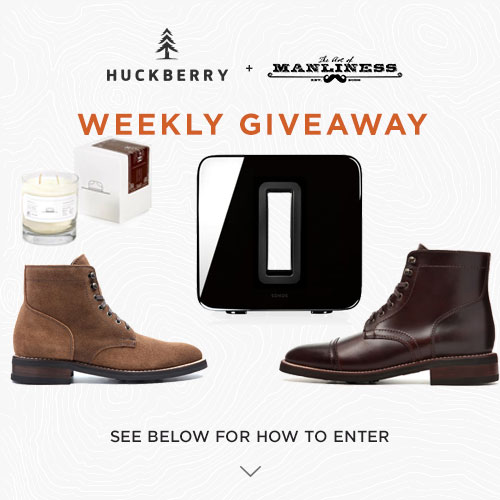 My Picks This Week
When it comes to speakers, it's my humble opinion that nobody beats Sonos. They have a variety of sizes to choose from — all of them wireless — and the sound quality is second to none. The best part? I'll give you two: 1) The speakers can seamlessly be connected to each other throughout your house, and 2) you can stream nearly any music service you can think of through a simple app on your phone. I've got a few around the house myself!
As we get deeper into fall and winter approaches, having a good pair of boots becomes essential to any man's wardrobe. Thursday Boot Company constructs their shoes to offer both quality and affordability. With a replaceable Goodyear Welt and studded rubber outsoles, these bad boys are meant to be beaten down and rebuilt over and over. Their new line — launching exclusively on Huckberry — features options in 100% American cattle suede.
When good times are had, the mood is often at least partially determined by the atmosphere of the occasion. A nice-smelling, masculine-scented candle can play a big role in setting the backdrop for a cozy fall evening with friends or a loved one. At Ranger Station, their scents are crafted with men in mind: oakmoss, tobacco + musk, cabin smoke. And perhaps best of all? The candles are poured into custom-etched whiskey glasses, so when the wick is through, you can give the container a clean and use it to pour yourself a drink.
The Prize
Any item currently available on Huckberry (up to a value of $500). Be sure to check out the current line-up of items as it changes every week.
Enter the Giveaway
If you are an email subscriber, do not reply to this email to make your entry. You must click on the title of this post, which will take you to the post on our web page where you can make your entry. Use the form below to enter. Don't forget! You have multiple ways to enter! The more of them you do, the better your chances are!
The Weekly Huckberry Giveaway 10.27.16

Deadline to enter is Wednesday, November 2, 2016 at 5PM CT. We'll then select one random winner. Good luck!
Last updated: December 5, 2017