Last week's winner was Kevin M. from Gardiner, ME. He chose the famed 6″ Service Boot by Chippewa.
My Picks This Week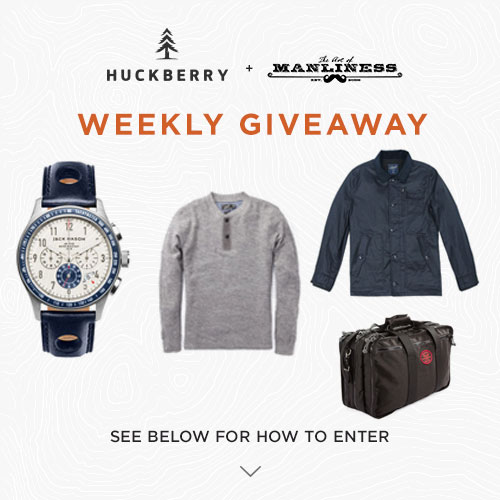 The Air Boss bag by Red Oxx is, quite literally, made for traveling. It's in fact been called "the perfect carry-on bag." Made with tough-as-nails materials and loaded with travel-made features, you'll never carry another bag on a plane (or in a car) again. Big enough to house all you need for a weekend away, and small enough to not give you trouble when those gate agents make you test your bag, the Air Boss is the Goldilocks of travel bags.
In the early Post-War years, the young men at Cambridge and Oxford started ditching their outdated three-piece suits for gray flannel trousers, or "Grayers." Today, Grayers is a clothing company that continues to carry the banner of the casual menswear movement forward with a smart line of shirts and trousers, inspired by this paradigm shift in sartorial history. Comfy, but not lacking in style, you'll be set for chilly weekend mornings either at home or running errands about town.
If our recent article on wristwatches inspired you to up your timepiece game, Jack Mason is a great place to start. Their racing chronograph watches are devilishly stylish, and would be a good accompaniment to any suit or business casual outfit.
The Prize
Any item currently available on Huckberry (up to a value of $500). Be sure to check out the current line-up of items as it changes every week.
Enter the Giveaway
If you are an email subscriber, do not reply to this email to make your entry. You must click on the title of this post, which will take you to the post on our web page where you can make your entry. Use the form below to enter. Don't forget! You have multiple ways to enter! The more of them you do, the better your chances are!
Weekly Huckberry Giveaway 10.14.16

Deadline to enter is Thursday, October 20, 2016 at 5PM CT. We'll then select one random winner. Good luck!
Last updated: December 1, 2017