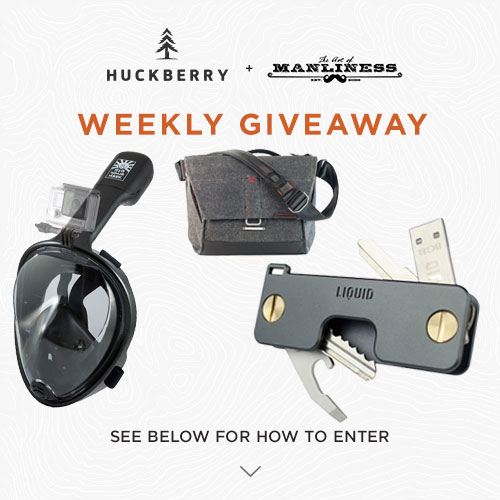 The winner of last week's AoM store giveaway was Matt from Indianapolis. He chose the Ben Franklin Virtue Journal.
My Picks This Week
While we feature a lot of bags, Peak Design doesn't make just another messenger bag. Their gear has won multiple awards, and raised over $5 million on Kickstarter. That's a lot. Why the hype? It has a lifetime warranty, is made with weather-resistant materials, and features a fully customizable interior with loads of accessories to choose from.
Snorkeling is a fun summertime activity for beach-goers, and yet relies on the ancient technology (if you can even call it that) of a tube and mouthpiece that sometimes makes you want to gag and fills up with water. The H2O Ninja has changed the snorkeling game with their all-in-one, fog-free, full-face mask snorkel. The mask's design allows for normal breathing from your mouth and nose, and the snorkel's one-way ball valve ensures water can't get in. Brilliant.
Tired of keys jangling in your pocket and stabbing your legs when you sit down? Enter the Aluminum Key Caddy. It keeps everything neat and tidy, and can also accommodate small tools, USB drives, and more. Keep the bulkiest part of your EDC slim and silent from now on.
The Prize
Any item currently available on Huckberry (up to a value of $500). Be sure to check out the current line-up of items as it changes every week.
Enter the Giveaway
If you are an email subscriber, do not reply to this email to make your entry. You must click on the title of this post, which will take you to the post on our web page where you can make your entry. Use the form below to enter. Don't forget! You have multiple ways to enter! The more of them you do, the better your chances are!
Weekly Huckberry Giveaway 6.16.16

Deadline to enter is Wednesday, June 22, 2016 at 5PM CT. We'll then select one random winner. Good luck!
Last updated: December 1, 2017