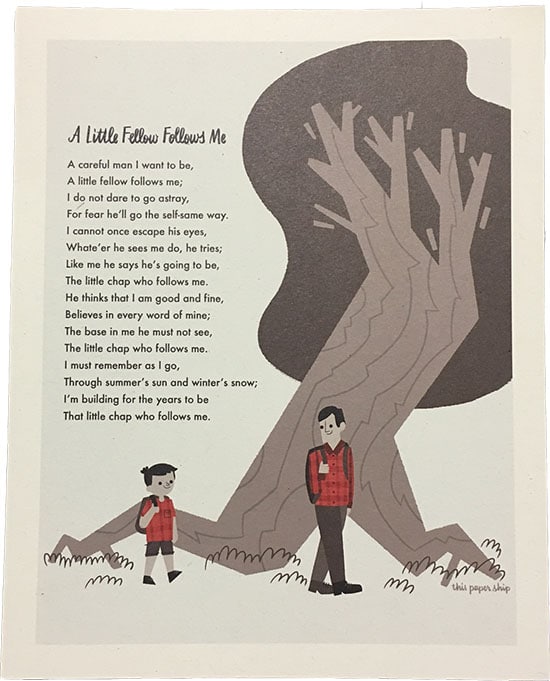 Growing up, an anonymously penned poem hung in the hallway of my parents home called "A Little Fellow Follows Me." It's still there.
I never gave much thought to it as a kid, but since becoming a father, it's become one of my favorite poems. It's a simple, gentle reminder to always be your best self because you've got a little person who thinks the world of you and is patterning his life after yours.
I'm not the only dad who loves this poem. Legendary basketball coach John Wooden received a copy of it in 1936 upon the birth of his son, and memorized it by heart. "Its words," he said, "greatly impacted me over the years." He even kept copies of the poem in a desk drawer, and gave them to all the fathers in his life.
I've long wanted a print of the poem of my own, but could never find a good one. So I commissioned the folks at This Paper Ship to create a mid-century inspired illustration that perfectly encapsulates the spirit of "A Little Fellow Follows Me." Hang it up in your office to remind you to be the best man you can be so you can pass on the legacy of manliness to your sons.
The poem is printed on premium 8″x 10″ 100-lb off-white paper using a four-color printing process. Printed in the USA.
We've got a limited run of these in stock just in time for Father's Day, so order straightaway to ensure you get one.
Other Ideas for Father's Day Gifts From the AoM Store
Besides our "A Little Fellow Follows Me" print, we've also got other items in the store that would make for great gifts for an AoM Dad.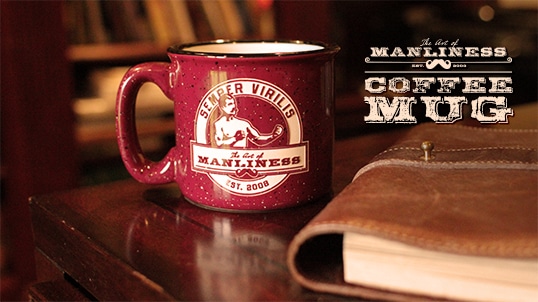 Yes, coffee mugs for Father's Day is cliche, but the AoM Coffee Mug is an exception. This isn't like any other coffee mug your dad has.
The AoM Coffee Mug is made of ceramic and is thick-walled to keep your soups, stews, and beverages hotter, longer. This bad boy weighs in at a hefty 1.3lbs and holds a healthy 15oz. Emblazoned on the outside is 19th century bare-knuckled pugilist John L. Sullivan with the phrase "Semper Virilis" — Always Manly — above his head. And unlike most branded coffee mugs with a chintzy printed-on design, we've deep-etched our artwork right into the ceramic, giving it a unique look that will never fade with use or wash off over time. It's destined to become a vessel of manliness that will be passed down to your posterity for generations.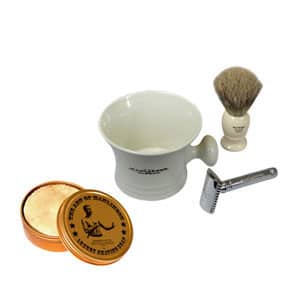 We've got an assortment of Art of Manliness traditional shaving gear. From our safety razor and badger hair brush, to our straight razor and accompanying leather strop. If Dad has been thinking about switching over from the world of multi-blade razor cartridges to traditional wet shaving, look no further than our AoM shave gear.
And Much More!
Besides those items, we've got signed editions of our books, AoM Tees (including our popular Gentleman Barbarian t-shirt) and even the best pair of workout shorts your dad will ever own.
When you gift your dad items from the AoM Store, you're helping support the content that we produce at AoM. Your purchases contribute to keeping the site up and running. So thank you for your patronage!
Last updated: November 29, 2017