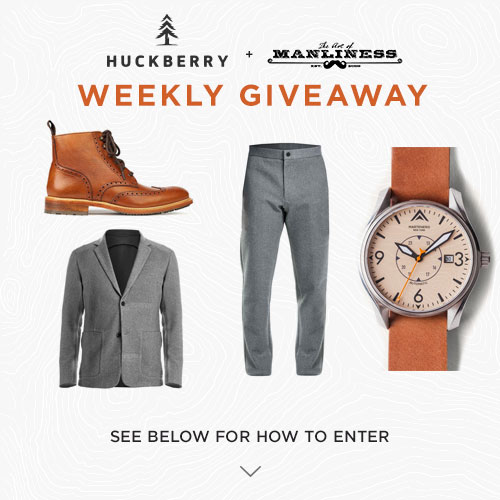 The winner of last week's AoM store giveaway was Travis from Billings, MT. He chose the safety razor bundle.
My Picks This Week
I'm always impressed with the offerings from Ministry of Supply, and their new line is no different. They've crafted blazers and trousers with an innovative new fabric that's both breathable and lightweight, but adds a touch of insulation for chilled mornings. Its silhouette drapes naturally around the body, and retains its shape all day long. Impressive!
The shoes from Crosby Square are handsome enough to induce jealousy in the most grounded man. As spring approaches, you'll be able to ditch the big, cumbersome boots for something a little more classy. Any of the offerings from Crosby Square fit that bill, from Oxfords, to monk straps, to ankle boots.
With the stylish watches from Ace by Martenero you get large, instantly-readable numbers at 3, 6, and 9, with an upwards arrow at 12. They're water resistant, and have an "exhibition" backing, meaning you can see right through the back and into the working hardware. Cool.
The Prize
Any item currently available on Huckberry (up to a value of $500). Be sure to check out the current line-up of items as it changes every week.
Enter the Giveaway
If you are an email subscriber, do not reply to this email to make your entry. You must click on the title of this post, which will take you to the post on our web page where you can make your entry. Use the form below to enter. Don't forget! You have multiple ways to enter! The more of them you do, the better your chances are!
Deadline to enter is February 18, 2016 at 5PM CT. We'll then select one random winner. Good luck!
Last updated: November 30, 2017