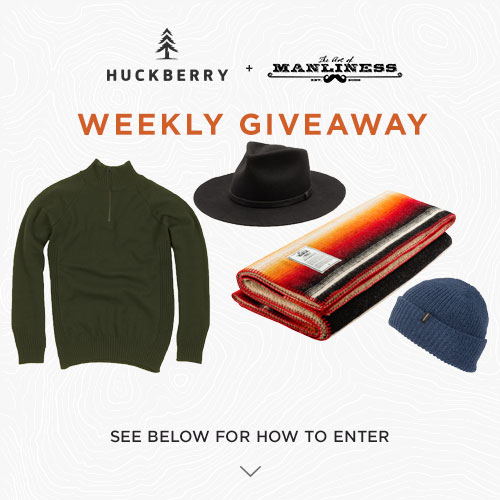 Welcome to another year of weekly Huckberry giveaways!
My Picks This Week
For most gentlemen, winter means breaking out the wool beanie when traversing the outdoors. Why not take it up a notch with the made-for-winter fedoras from Yellow 108? These wool hats will keep your noggin warm, and you'll look sharper than all the other gents out and about.
It's well known that Woolrich makes some of the best and warmest wool blankets around. Now they've upped their game by teaming with Huckberry to create some unique blankets that merge Woolrich's Eastern roots with Huckberry's Western design sensibilities. The results are stunning, and will make for a warm and handsome piece in your home for years to come.
Dressing well in the cold, blustery beginning months of the year is all about layers. Duckworth has that strategy down pat with their merino wool sweaters. With a casual fit (for the layering), their shirts wear comfortably for three seasons. Don't miss out on these stylish and comfortable sweaters.
The Prize
Any item currently available on Huckberry (up to a value of $500). Be sure to check out the current line-up of items as it changes every week.
Enter the Giveaway
If you are an email subscriber, do not reply to this email to make your entry. You must click on the title of this post, which will take you to the post on our web page where you can make your entry. Use the form below to enter. Don't forget! You have multiple ways to enter! The more of them you do, the better your chances are!
Art of Manliness x Huckberry Weekly Giveaway

Deadline to enter is January 28, 2016 at 5PM CDT. We'll then draw one random winner. Good luck!
Last updated: November 30, 2017