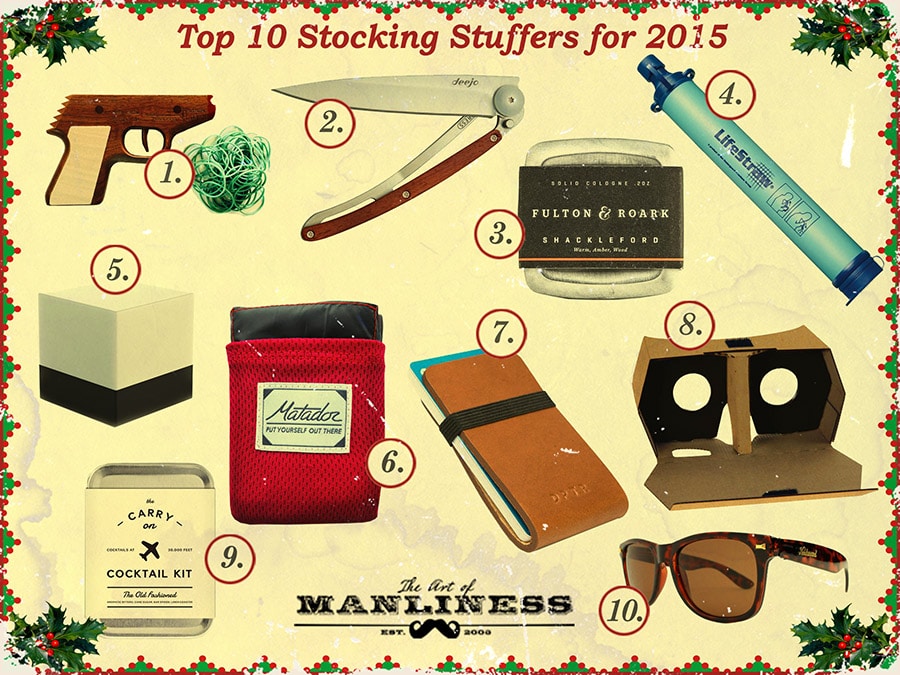 Stockings, and the delightful little gifts that come in them, are one of the best parts of Christmas morning. The items are often more fun than practical, and provide everybody something to "play" with (even if it's a pocket knife). Stocking stuffer ideas for grown men are hard to come by, though. It has to be inexpensive enough to warrant being in the stocking versus under the tree, but with enough quality and thoughtfulness to not just be a chintzy throwaway item. To help you out, we asked the folks at Huckberry for their top 10 recommendations for stocking stuffers this year; for even more can't-miss ideas, be sure to browse their dedicated stocking stuffer shop.
1. PPK Rubber Band Gun. Even adults like to find toys in their stocking on Christmas morn. The Model PPK Wooden Rubber Band Gun from Elastic Precision is a semi-automatic (pull the trigger and launch 5 rubber bands one after another), and it's modeled after the classic Walther PPK handgun made famous by James Bond. Train your GoldenEye on friends and family and turn your living room into a no-holds-barred shootout.
2. Deejo Rosewood Knife. Every man would love to find a knife in his stocking. This beauty has a detailed finish in natural rosewood, and is made with high-quality 420 stainless steel. Weighing only 37 grams (that's less than a tenth of a pound!), carry it wherever you go and you won't even notice its weight in your pocket.
3. Fulton & Roark Shackleford Solid Cologne. If you've tried bringing your favorite cologne on a trip, you know how messy it can get. I once had the top come off a bottle in my dopp kit while traveling by plane, drenching my bag with cologne. With the solid colognes from Fulton & Roark, you can bring a cologne on your next trip without the worry or the mess. Their cologne comes in a solid wax that you rub into your skin. The Shackleford scent provides a long-lasting woodsy smell.
4. LifeStraw. LifeStraw is the most advanced personal water filter available today. It enables users to drink water safely from contaminated water sources, and will filter over 250 gallons of water in its lifespan. LifeStraw is ideal for homeowners during emergencies such as local flooding which can contaminate drinking water supplies, as well as campers and hikers who may be drinking from rivers or lakes and are unsure of the water quality. It's lightweight and compact, easily fitting into any bug-in/bug-out bag, or hiking pack.
5. CUBE Light. The CUBE Light fits maximum functionality into a uniquely minimalist design. There are always those times when you wish you had some light in a dark place, and the go-to is usually a smartphone app. Those don't offer much control, though, and of course drain the battery. The CUBE light is ultra-portable, offers multiple intensities and colors, and has up to 100 hours of run-time.
6. Pocket Blanket. Who doesn't need a blanket that fits in your pocket? This ultra-light, ultra-portable blanket can turn any occasion into a romantic picnic. And don't worry about dewy grass or damp sand, this bad boy is water repellant. Weighted corners keep it from blowing in the wind, too.
7. Leather Clamshell Wallet. This super-minimalist wallet will keep you cards and cash secure with its horween leather body and elastic braid. It's like a money clip, but made with leather. Awesome. The lining features calf leather for smoother no-scratch feel on your carriage.
8. Pop-Up Virtual Reality Viewer. This do-it-yourself toolkit will allow you to build your own cardboard headset to experience virtual reality with any number of smartphone apps. It's as simple as downloading an app and using the cardboard viewer to experience virtual reality. This is more and more what modern technology is turning to, so harness your inner child (or give one to your child), and immerse yourself in VR (that's what the cool kids are calling it).
9. Carry-on Cocktail Kit (Old Fashioned). This kit provides everything you need to mix two proper old fashioned cocktails at 30,000 feet. Simply carry on your kit (don't worry, it will make it through security just fine), order a mini-bottle of bourbon, and use the custom combination bar spoon/muddler to mix in the included cane sugar and small batch bitters. You are now free to cocktail about the cabin.
10. Fort Knocks Sunglasses. Inspired by the United States Bullion Depository in Fort Knox, Kentucky, the injection-molded frames feature gold bar detailing and articulating spring hinges. These shades are affordable, but don't be fooled — they look dang good, and can take a beating.
Last updated: December 5, 2017