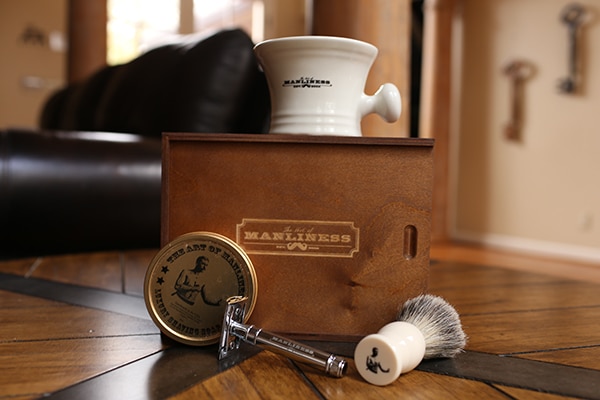 The very first article I wrote and published on Art of Manliness nearly six years ago was "How to Shave Like Your Grandpa." It's a primer on traditional wet shaving using a safety razor and badger brush. It's consistently been one of the most popular posts on the site year in and year out. I get letters and emails from men each week telling me how that article turned them on to traditional wet shaving and every day, dudes on Instagram tag "Art of Manliness" on pics that show off their new shaving gear.
We followed that post with a straight razor primer called "How to Shave Like Your Great Grandpa," and just as with the safety razor post, I get emails and letters from men the world over telling me how they're now using a straight razor thanks to the Art of Manliness.
After seeing how so many men associate AoM with traditional wet shaving, I thought it would be cool to create a line of Art of Manliness shaving supplies. So I did.
Today I'm excited and proud to announce the launch of the Art of Manliness Shaving Line. Take a look at what we got!
The Art of Manliness Safety Razor Line-up
We teamed up with Edwin Jagger, one of the world's leading manufacturers of traditional shaving products, to create everything you need to get started with traditional safety razor shaving. My goal was to provide top quality products at a reasonable price, and Edwin Jagger helped me do that.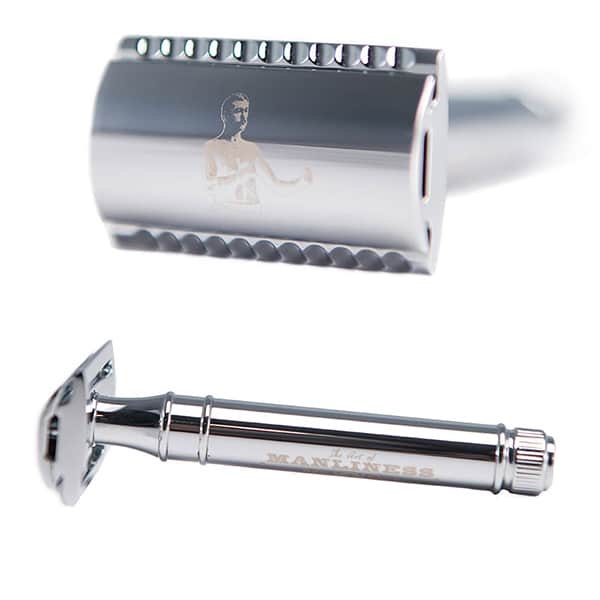 Edwin Jagger is recognized as the manufacturer of the world's finest traditional shaving accessories, and that quality is evident in this beautiful safety razor. At 9.5 cm (3.7 inches), this three-piece razor is well-balanced. And with solid, hard chrome plating, it's a hefty, manly heirloom that will be passed down for generations.
The handle is emblazoned with the Art of Manliness signature logo, and the head features the likeness of our very own John L. Sullivan. And it gets even better: with every razor purchased you receive a FREE pack of flat stainless steel blades so you'll be ready to start shaving like your grandpa as soon as this beauty arrives on your doorstep.
The razor and blades come packed in an Art of Manliness box, suitable for gifting.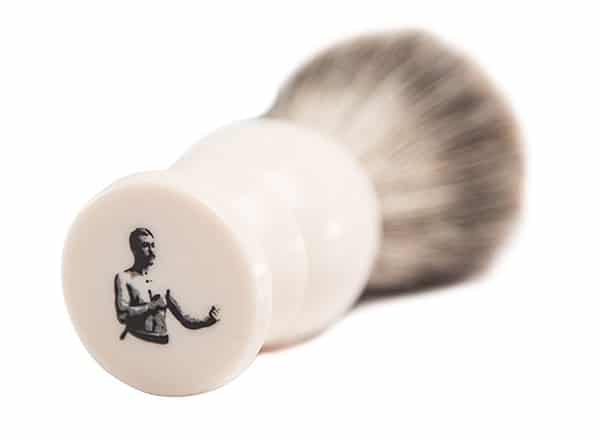 Up your shave game with this handsome Art of Manliness badger hair brush. The image of John L. Sullivan is featured on the brush's ivory-colored handle. Manufactured by Edwin Jagger, this brush is loaded with top-graded badger hair. Why use badger hair you ask? Because badger hair absorbs water, a key component for a proper shave. Whip up a rich lather with our brush, soap, and loads of hot water, apply to face in a circular motion, shave, repeat as necessary. Applying shave cream with a brush softens the beard and exfoliates the skin, leaving it smooth and desirable.
Packaged in an Art of Manliness box, you'll want to purchase one for yourself and give one as a gift.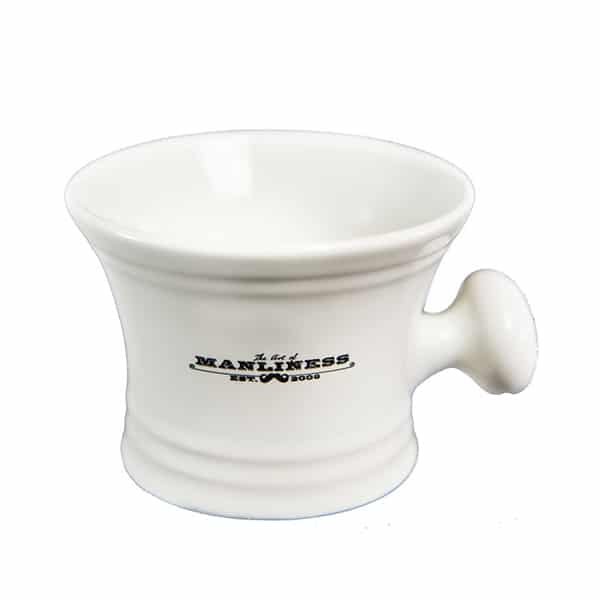 The bowl's handle will provide for a sturdy grip as you whip your soap into a luxurious lather. Gift boxed in stout Art of Manliness packaging.
The Art of Manliness Straight Razor Shaving Line-up
For those of you ready to move on from safety razor shaving and try your hand at straight razor shaving, AoM has got you covered.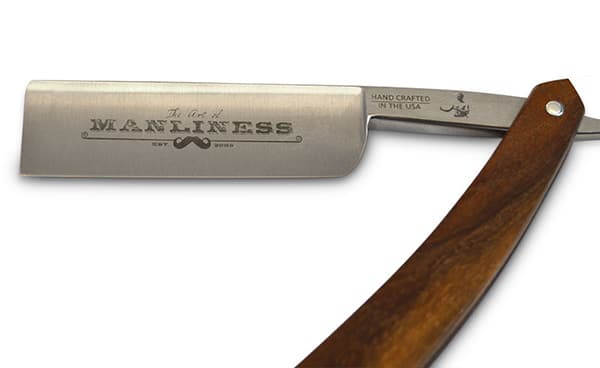 This cut throat razor isn't for the faint of heart. It's for the gritty man who wants to start his day by applying a sharp blade to his neck.
We've collaborated with Grim Blades to create a beautiful straight razor featuring a wooden handle and razor-sharp steel. The 6/8 inch square tip, hollow-ground blade and exotic rosewood handle are hand-forged by master craftsmen in Idaho. The Art of Manliness logo is etched on the blade, with John L. Sullivan positioned to be your loyal morning routine companion.
This is an heirloom piece that will be passed down to your posterity and offer your sons, grandsons, and great-grandsons a lifetime of grooming pleasure.
The blade comes to you sharpened and shave ready, and is handsomely packaged in a black and gold Art of Manliness box.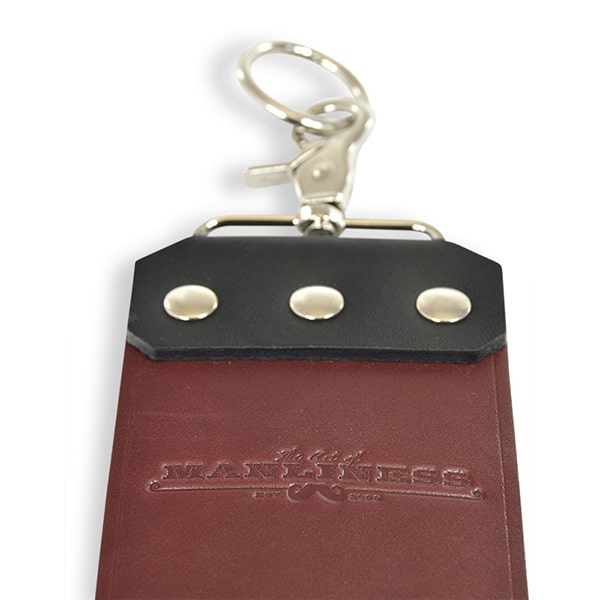 Our strop is American made using supple leather with a medium draw. Stropping your Art of Manliness straight razor prior to each shave will maintain your blade for a comfortable shave, keeping it sharp and keen. Strop the blade on the cotton canvas side to remove burrs from the blade; then move to the leather side to prepare the blade for shaving. The 3-inch wide surface eliminates the need for a cross-stroke pattern, making stropping easy for the novice. This strop will be a handsome compliment to your wet shaving routine with our bowl, brush, and soap.
Happy shaving everyone!
Last updated: November 28, 2017