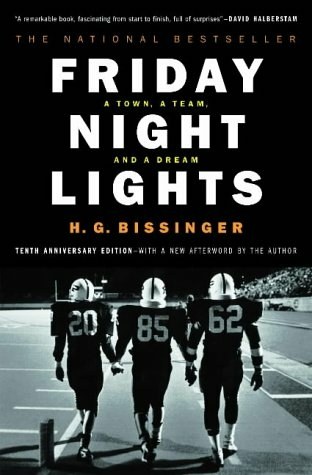 "Clear eyes. Full hearts. Can't lose!"
Who can forget Coach Taylor's immortal mantra from the epic TV show, Friday Night Lights? We have a bit of a love affair with the show here at AoM. In fact, we've written an article about what a man can learn from FNL, and we've mentioned it in countless more articles. I knew it was based on a non-fiction book, but had yet to take the time to find out the true tale. We're in the midst of football season, so what better time to get to know the real story of the Panthers from Odessa, TX, especially amongst all the bad news coming out of football lately.
Written in 1990, Friday Night Lights has been called by many "the greatest football book of all time." Pulitzer Prize-winning author H. G. Bissinger follows the Panthers' 1988 season, and recounts the effect that high school football can have on a small town. It's a story of inspiration, community, hard work, and sometimes, dreams being shattered. I can't wait to dive in and learn the real story of Boobie Miles and the Permian Panthers of Odessa, Texas. Will you join me?
Schedule
We'll post the first discussion on Wednesday, October 15th. It will cover the first 8 chapters of the book.
We'll post the second discussion on Wednesday, October 29th, and will cover the remainder of the book.
How to Join the Book Club
We make announcements about the book club here on the main site, while housing the book's discussion over on the AoM Community in a private group called "The Official Art of Manliness Book Club." In addition to online discussion in the group forums, the club will occasionally offer other great features including video chats and Q&As with some literary experts on the subjects of our discussions.
To join the AoM Book Club you pay a one-time $1 membership fee (the aim of this nominal fee is to simply keep out trolls and hopefully increase your commitment). If you've already joined the book club group and paid, you don't have to do so again. You'll have access to all our discussions from here on out.
Last updated: November 29, 2017