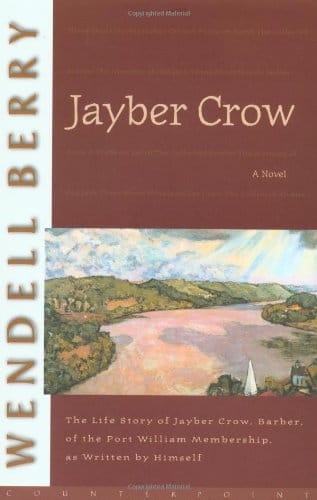 The story of Jayber Crow could very well be the story of each and every one of us. It's a character-driven book that follows the life of once-seminarian and now small-town barber Jayber Crow. He sits behind his chair and delves into big questions about the meaning of life and community while chatting with his customers. Isn't that what we're all trying to do? Ultimately, we do our best to figure out this life we lead from the midst of our sometimes-ordinary day-to-day circumstances. If you need further convincing, Wendell Berry is Nick Offerman's favorite living author, and Jayber Crow is among his favorite books.
Schedule
We'll post the first discussion on Monday, September 15th. It will cover the first 17 chapters of the book.
We'll post the second discussion on Monday, September 29th, and will cover the remainder of the book.
How to Join the Book Club
We make announcements about the book club here on the main site, while housing the book's discussion over on the AoM Community in a private group called "The Official Art of Manliness Book Club." In addition to online discussion in the group forums, the club will occasionally offer other great features including video chats and Q&As with some literary experts on the subjects of our discussions.
To join the AoM Book Club you pay a one-time $1 membership fee (the aim of this nominal fee is to simply keep out trolls and hopefully increase your commitment). If you've already joined the book club group and paid, you don't have to do so again. You'll have access to all our discussions from here on out.
Last updated: November 28, 2017