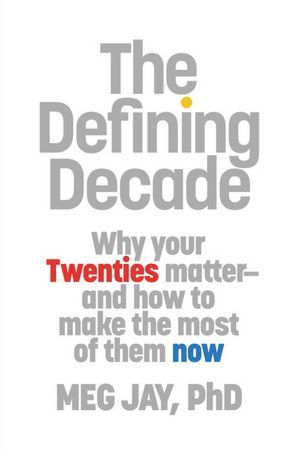 It's oft repeated by the media and pop culture that "30 is the new 20" — meaning one can put off starting their life and "growing up" for a decade. People don't get married as young, good jobs are seemingly harder to come by, real estate isn't as easy to purchase as it once was, etc. So why not just put those things off until you're 30 when you've really figured yourself out and saved some money? Dr. Meg Jay gives us a plethora of reasons in her book The Defining Decade. Using neuroscience and psychology, Dr. Jay outlines why one's 20s are actually the perfect time to build the foundation of your life.
We've covered some of the great points Jay makes her book here on the site before, particularly in our two-post series called "Don't Waste Your 20s." Give that a read if you need convincing to pick up this book. The whole AoM team considers The Defining Decade to be a true must-read, especially if you're still in your 20s. If you feel restless, like your choices are limitless and you don't know which direction to head, this is the book for you. Even if you're older, there are plenty of lessons you can still garner from it. If nothing else, read the book for the sake of your children, nephews/nieces, grandchildren, etc.
Schedule
We'll post the first discussion on Friday, August 15th. It will cover the first two sections of the book: "Work" and "Love."
We'll post the second discussion on Friday, August 29th. It will cover the remainder of the book.
How to Join the Book Club
We make announcements about the book club here on the main site, while housing the book's discussion over on the AoM Community in a private group called "The Official Art of Manliness Book Club." In addition to online discussion in the group forums, the club offers other great features including video chats and Q&As with some literary experts on the subjects of our discussions.
To join the AoM Book Club you pay a one-time $1 membership fee (the aim of this nominal fee is to simply keep out trolls and hopefully increase your commitment). If you've already joined the book club group and paid, you don't have to do so again. You'll have access to all our discussions, notes, video chats, and expert Q&As from here on out.
Last updated: November 27, 2017