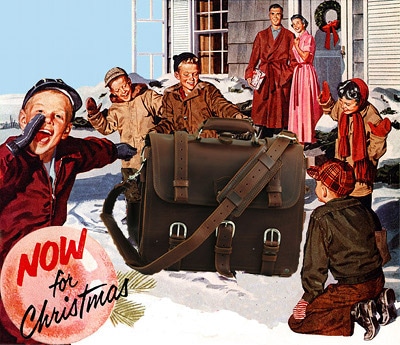 Saddleback Bags make the ultimate gift. They can make even the Scroogiest McScrooge giggle like a little boy on Christmas morning. Instead of getting a bunch of useless doodads from your folks and relatives this year, get them to all go in on a bag for you. Or ask for a Saddleback gift certificate to get you at least part of the way there. Hey, borrow against next year's gifts if needs be! It's well worth it.
Or, you can try winning a briefcase in our giveaway.
The Prize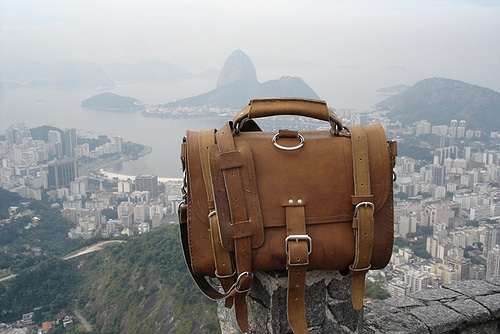 The Saddleback Leather Company Classic Briefcase. This incomparable briefcase is made with 100% thick, full-grain boot leather and pigskin lining and is crafted with industrial marine-grade thread and rivets at all the stress points. It converts quickly into a backpack for your easy traveling. There are no breakable parts, e.g. zippers, snaps, or buttons, and the bag comes with an iron-clad 100-year warranty. This is truly the last briefcase you'll ever need.
The size and color of the bag is up to you.
That makes this up to a $664 value.
How do you like them fruitcakes?
How to Enter
1. Visit the Saddleback Leather Company website and pick out which size and color briefcase you would like if you win. The bag will come with the pigskin lining.
2. Share your selection with us in the comments section. You don't have to post the link — just a description. (Posting the link may cause your comment to be filtered as spam).
Please be patient if your comment doesn't show up right away! We moderate all comments, so your comment will not show up immediately. But it went through…so don't post multiple comments!
If you're an email subscriber and want to enter the contest, do not reply to the email to make your entry! You must click on the comment link here in the email and leave a comment under the post to enter.
A winner will be drawn randomly from the entries. The deadline for entry into the giveaway is Thursday, December 12, 2013 at 12:00 PM CST.
This post will be updated within 48 hours of the deadline with the winner's name.

Good luck!
Update: Our winner was Daniel from Colorado Springs, CO. He chose the Large Chestnut. Congratulations! Your children and grandchildren can fight for it when you're dead.
Last updated: November 27, 2017