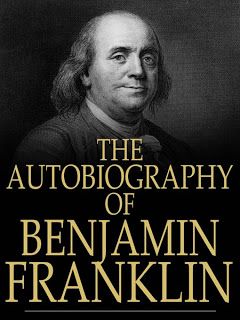 Last month, we announced the creation of the official AoM Book Club. Over in the AoM Community we've had enlightening discussion around The Great Gatsby over the last month.
Our selection for August is The Autobiography of Benjamin Franklin. It's free as an ebook, or you can get a cheap paperback copy for around $4.
We wanted the book club to be a variety of fiction and non-fiction so as to include as many different interests as we can. Biographies are great choices for non-fiction because we get to study the lives of great men who've come before us. They're like mentors from the past — a cabinet of invisible counselors. Who better to start with than the great Benjamin Franklin? We're written about him extensively in the past:
Why not go right to the source and see what else we can glean from his life as a community? This short autobiography, one of the most well-known in history, was written in the last 20 years of his life, and wasn't published in English until three years after he died (1793). It's split into four parts over about 130 pages and is filled with all kinds of manly goodness to take away.
Schedule
We're giving you two weeks to get your hands on the book and read Part One, which is roughly the first 50 pages. We'll post the first discussion on August 9th, and then every Friday after for the remainder of August. We'll announce the September selection a week or so before that one starts up.
How to Join the Book Club
We'll make announcements about the book club here on the main site, while housing the book's discussion over on the AoM Community in a private group called "The Official Art of Manliness Book Club." In addition to online discussion in the group forums, we have some great ideas in mind including doing video chats and Q&As with some literary experts on the subjects of our discussions.
To join the AoM Book Club you pay a one-time $1 membership fee (the aim of this nominal fee is to simply keep out trolls and hopefully increase your commitment). If you've already joined the book club group and paid, you don't have to do so again. You'll have access to all our discussions, notes, video chats, and expert Q&As from here on out.
Last updated: November 16, 2017