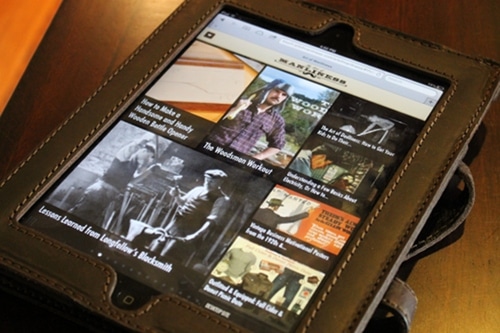 As more and more folks use mobile touch devices like iPads and smartphones to browse the internet, the challenge for online publishers is to customize their platform so that reading content is optimized for mobile viewing. We've had previous iterations of a mobile site for AoM before, but they were pretty rudimentary and didn't work for tablet devices.
But now that's changed. We've partnered with Onswipe to create a touch-friendly mobile version of AoM that looks and works like a dream on the iPhone (Android coming soon) and three of the most popular tablet devices on the market today.
We actually implemented the Onswipe mobile version of AoM about two months ago and did a small announcement via Twitter to get some feedback from folks as we worked out some bugs with the fine folks at Onswipe.  The response to the new mobile site has been overwhelmingly positive.
And the analytics back up the anecdotal praise. Without even letting people know we have a touch-friendly version of the site, our engagement from mobile users has increased dramatically. According to Google Analytics, the number of visits from folks using iPhones has increased by nearly 7,000% in just two months. And people using their iPad to browse AoM are sticking around a lot longer: average time spent on the site went up over 200%. Sure, some people aren't going to be happy with the changes (you can't please everyone!), but the statistics show that lots of AoM readers are digging the new Onswipe mobile experience.
Here's a sneak peak at some of the features you'll find on our new mobile touch version of AoM.
Features
Clean, Magazine-like Layout
Easy-to-Use, Intuitive Touch Interface
Responsive Web Design
Favorites
Share
100% Free (Ad-supported)

We're committed to ensuring the high-caliber articles on artofmanliness.com remain totally free, but for that to happen we need the support of advertisers. We're able to provide this great mobile version of AoM thanks to advertisements that will appear every now and then as you swipe through articles. We'll be working with Onswipe to ensure that ads adhere to the same high standards we apply to the desktop version of the site and don't clutter up the mobile experience.
Works in Your Browser: No App Download Needed!
The AoM + Onswipe mobile site works in your mobile device's browser. No download needed! Anytime you go to an artofmanliness.com url on your mobile device, you'll automatically be directed to the mobile experience. (Of course, if you don't like the mobile version, we make it easy for you to opt out with a "Desktop Mode" button.)
This Is Just the Beginning! 
Onswipe is working hard to add more features to the mobile version of AoM to make it even better. Keep checking back on your touch device to see what's cooking.
Devices Currently Supported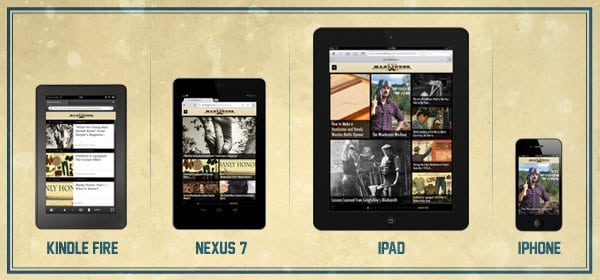 Kindle Fire
Nexus 7
iPad
iPhone
The site looks slightly different on each device, but works pretty much the same whether you're on a iPad or Nexus 7 — just touch and swipe to navigate through the site.
Coming Soon: Android smartphones. Look for it towards the end of the year!
Thanks for your continued support of The Art of Manliness. We're always looking for ways to improve your experience with AoM. We hope this new mobile version of the site does just that.
Win an iPad 2 AND a Saddleback Leather Company iPad Case from AoM + Onswipe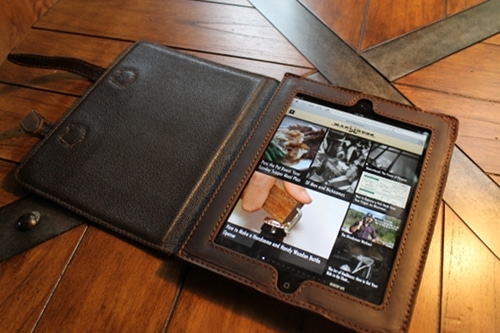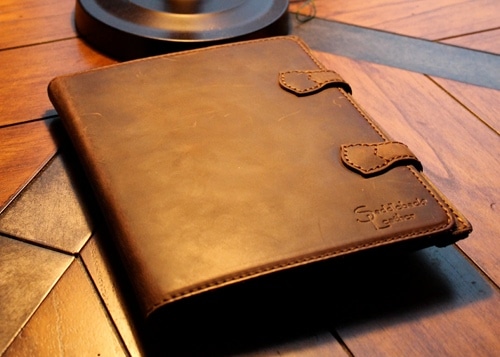 To celebrate the launch of our new magazine-esque, touch-friendly mobile site, AoM and Onswipe are giving away an iPad 2 AND a Saddleback Leather iPad case so you can read AoM's new mobile site in ruggedly handsome style.
How to Enter
There are two ways to enter.
1. Simply leave a comment below sharing where you're going to read AoM on your Saddleback Leather encased iPad 2.
2. Visit artofmanliness.com on any of the following devices: Nexus 7, Kindle Fire, or iPad, and you will see an advertisement that looks like this as you swipe between articles: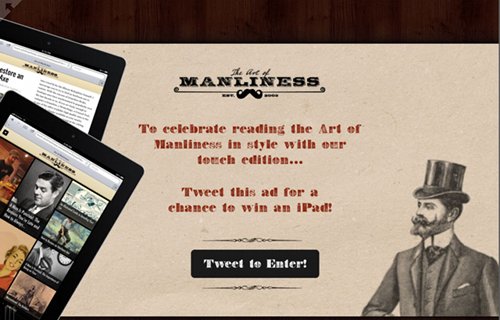 Click the "Tweet to Enter" button and a hover-over will appear with various sharing buttons. Click the Twitter button. For your Tweet to count make sure to add the following in your tweet: #aomipad
Deadline to enter is Thursday, October 18, 2012 at 10PM CT. We'll then select a random entry from the comments and tweets combined to determine the winner.
Good luck!
Last updated: November 27, 2017