I've been an iPad owner for almost a year now.  I love it. I feel like I'm holding some magical window to the future whenever I'm using it. One minute I can be reading a biography of Theodore Roosevelt and the next I can be watching a free video lecture about Roosevelt on YouTube. And of course, the iPad is great for surfing the net, checking email, and playing games.
For the first six months or so of owning and using my iPad, I didn't use a protective case. One fateful day, my son Gus, then 9 months old, got his menacing little baby hands on my iPad when I wasn't looking and chucked it onto the tile floor. My $600 iPad sustained a small crack on the screen near the corner. Luckily, the crack is over the black border surrounding the main iPad screen, so it doesn't obstruct my viewing. But after dodging that bullet, I didn't want to tempt fate again by leaving my iPad uncased with an iPad-destroying toddler on the loose in my apartment.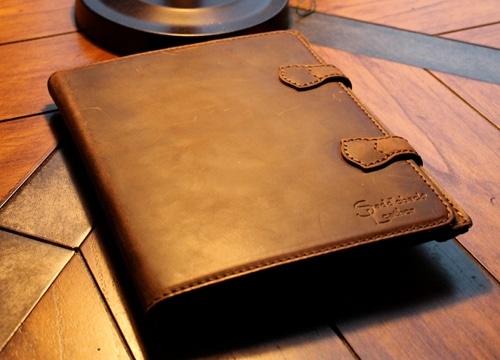 Unfortunately, most of the iPad cases out on the market are pretty boring-looking. I wanted a case that was both ruggedly handsome and functional. Enter the Saddleback Leather Company iPad Case.
If Indiana Jones used an iPad, he'd use this case to protect it. Made from 100% full-grain, boot leather, these iPad cases come with Saddleback's 100 year guarantee. Your grandson can use this case to protect his iPad 10 from being damaged when he falls off his hover board.
The case is designed to absorb impacts from the roughest of use. Gus has thrown my Saddleback Leather-encased iPad onto our hardwood floors countless times and my iPad remains unscathed.  And you can easily stand your iPad horizontally with this case for those times you're watching Bridge Over the River Kwai while smoking your pipe.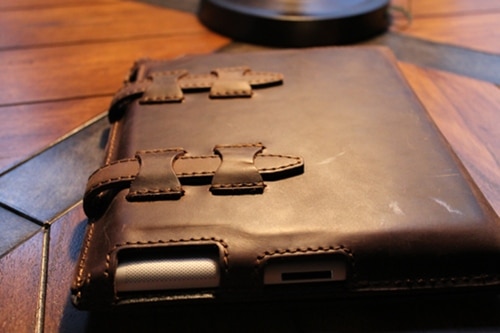 And like all Saddleback Leather products, the iPad case just looks and feels awesome. Every time I've taken my iPad on a plane, I've gotten compliments on the Saddleback case from my seatmate.
If you have an iPad, I can't personally recommend this case enough. If you have a dad who has an iPad, the Saddleback Leather iPad case makes for a great Father's Day present. My family got my dad one last year and he loves it.
Saddleback Leather iPad Case Giveaway
The fine folks at Saddleback Leather Company are giving away one iPad case to one lucky AoM reader. Be the envy of iPad users everywhere with this ruggedly handsome case or, better yet, give it to dear old dad for Father's Day. Value of the prize is $104.
To enter, simply leave a comment below sharing your favorite iPad app. That's it.
Deadline to enter is Thursday, May 24, 2012 at 12:00 PM CST. We'll then select one random comment as the winner.
Update: Contest is over. Winners will be announced here on Saturday, May 26, 2012.
Last updated: November 26, 2017