We've extolled the virtues of classic shaving countless times on the site. Not only does it provide a better shave, classic shaving makes a mundane chore into an almost meditative ritual. There's just something about lathering up with a badger brush and using careful strokes with a well-stropped straight razor that settles the mind. If you're looking to get started with shaving like your grandfather did, check out Razor Emporium. Started by two classic shaving enthusiasts, Razor Emporium sells everything you need to get started with classic shaving–from razors to brushes to shaving creams and strops.
They also provide razor restoration services for any of those old razors you inherited from your grandpa or that you picked up at an antique store. Several months ago my grandpa sent me my great-grandfather's straight razor. It was in okay condition, but it needed work. So I sent it to Sebastian at Razor Emporium. They fixed a crack on the scales (the plastic part that the razor folds into), polished it up, and had it honed by a master sharpener. I was able to shave with it right out of the shipping box, and boy did it shave nice. It was a pretty cool moment to shave with a straight razor used by my grandpa and great-grandpa. As an added bonus, Sebastian included a nice little write-up on my razor's history, informing me of where it was made and the approximate date it was manufactured. Needless to say, getting a hold of an old family razor and having it restored to its former glory would make a very, very cool Christmas gift for a man.
Well enough introduction. Today, our slate of holiday giveaways rolls on with two awesome prizes provided by the gents at Razor Emporium. They're giving away two sets of classic shaving gear to two lucky AoM readers. Want to get your hands on this gear? Read on.
The Prizes
Set 1: Double-Edge Premium Shaving Set-up – $325 value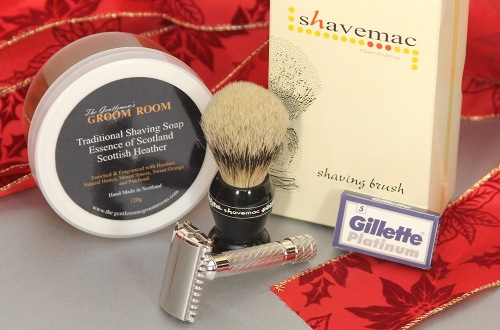 Set 2: Straight Razor Premium Shaving Set-up – $450 value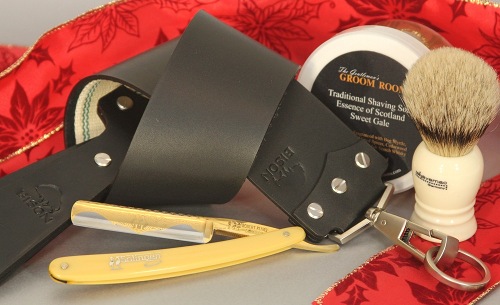 How to Enter
To enter, simply leave a comment below telling us whether you'd like to win the safety razor set or the straight razor set. That's it.
Entries for the giveaway are now closed. Winners will be announced shortly.
At the conclusion of the contest, everyone who entered will be emailed a discount code good for 10% off anything in the Razor Emporium store.
Good luck!
Last updated: November 26, 2017