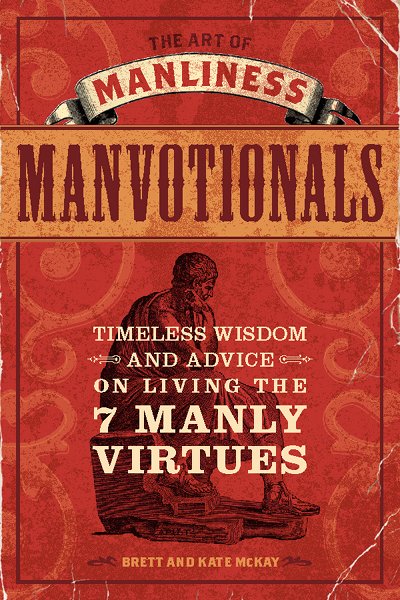 This week our publisher informed us that while they were originally going to release our new book, Manvotionals: Timeless Wisdom and Advice for the Modern Man, in mid-September, they've decided to move the launch until around October 28th in order to coincide with some promotions they'll be running with Barnes and Noble and Amazon at that time. We're both really bummer and quite happy about this delay. Happy because the promotions will mean that more people will hopefully discover the book. Really bummed because we had been truly counting down the days until September, as we've been beyond excited to share this book with you guys. I guess this will just build the suspense for a couple more months. We don't have any control over these decisions, so we appreciate your patience and support.
You can pre-order the book now, and you can read excerpts of it at the official Manvotionals site.
We've already received advance copies of the book–and it's really sweet! During October, we'll be giving away one advance copy of the book every week until the launch on our side blog, The Trunk. So be sure to check in regularly for a chance to be the first guy on the block, nay, in your state or even your country to get your hands on one.
Last updated: November 26, 2017