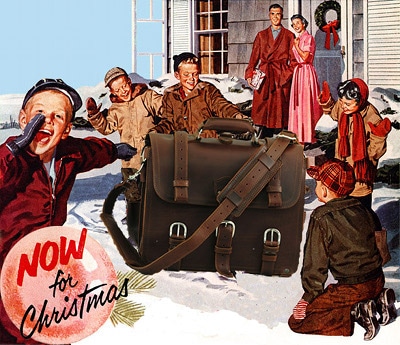 I've received a lot of great Christmas presents through the years. When I was six I got the Ghostbusters Proton Pack and Ghost Popper. When I was eight I saw Gleaming the Cube and my life was changed.  I had to get a skateboard just like Christian Slater. Santa came through with an awesome pro skateboard. Christmas morning I was out riding that thing (well, at least trying to) even though it was 20 degrees outside.  When I was ten I received the Christmas present that every boy dreams about: a Red Ryder BB Gun. I shot lots of Crystal Pepsi cans and even went on a few "hunts" out in the fields behind my subdivision. I never bagged anything unless you count the centipede I bifurcated at point blank. At least I didn't shoot my eye out.
I loved all those presents. But the one Christmas present I remember most fondly was the electric guitar I got in 8th grade. Oh man, was that an awesome present. I guess my lust for an electric guitar began in 6th grade. I discovered music and became a budding audiophile. Favorite bands? The Beatles and Oasis (yeah, Oasis.). In 7th grade my friends and I wanted to start a band. I needed a guitar.
I asked for a guitar that year, but Santa said no. It was devastating and only fed my hunger for one. I remember that for an entire year I would go to the music shop a few times a month to look at guitars.  My longing for a guitar was so great that I was excited to get this lame inflatable gag guitar at a carnival because then I could practice fingering guitar chords.
Finally, after a year of waiting, Christmas morning arrived. I walked out to the living room where Santa dropped off our booty. Perched on my "present couch" (each of my siblings had a couch that Santa would drop stuff off on) was a Peavey sunburst guitar with accompanying Peavey amp. It was a glorious sight to behold.
Despite being 6:30 in the morning, I plugged in the guitar, cranked the amp "up to 11" and strummed a window shattering power chord. I was in teenage boy heaven.
The Saddleaback Leather Company Holiday Giveaway
Saddleback Bags make the ultimate gifts. My whole family pitched in and bought my dad a Saddleback briefcase for Christmas last year, and he thought it was the best present he ever got. These bags can make even the Scroogiest McScrooge giggle like a little boy on Christmas morning. Instead of getting a bunch of useless doodads from your folks and relatives this year, get them to all go in on a bag for you. Or ask for a Saddleback gift certificate to get you at least part of the way there. Hey, borrow against next year's gifts if needs be!
Or, you can try winning a briefcase in our giveaway.
The Prize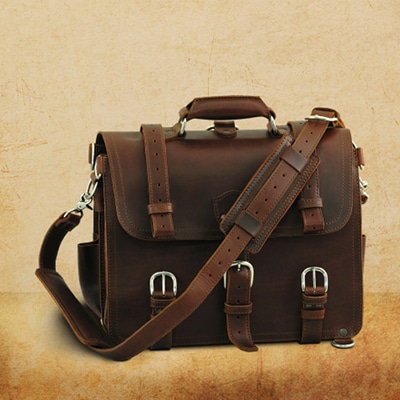 A medium leather briefcase in your choice of color is up for grabs. Thick, full grain boot leather. 100 year warranty. A $519 value. How do you like them fruitcakes?
How to Enter
Simply leave a comment on this post sharing the best present you've ever received. Deadline to enter is Wednesday, December 8 at 11PM CST. We will randomly draw one comment to be the winner and the envy of all mandom.
Good luck!
Last updated: November 26, 2017