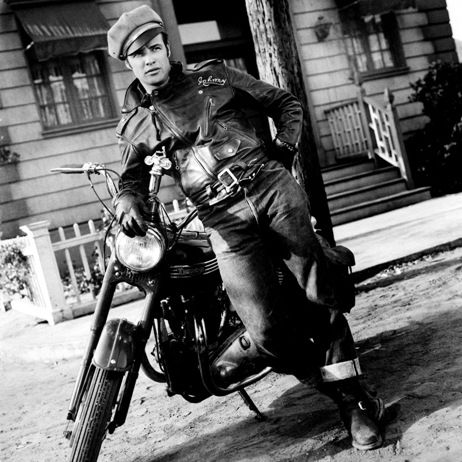 Editor's note: While the Saddleback giveaway last night, we've got another awesome holiday season giveaway of one the finest leather products in the land: a jacket from Schott NYC. Here Schott shares its tips in breaking in a leather jacket. For a chance to win one of their uber-manly jackets and coats, check below for details.
Tips for Breaking in a Leather Jacket
1. Figure out what type of leather you are working with. To break in a jacket, the leather must be strong enough to withstand abuse. Lambskin is soft and luxurious but does not have the same tensile strength of cowhide or goatskin. Leather is not like fabric in the sense that you can stitch up a hole; marks and scratches are permanent on skins. It is important to choose a strong durable leather to really wear it in and make it conform to you.
2. Take it slow. Anything you do to the jacket cannot be undone. Look at old leather jackets that are worn in and see where there is the most wear to the leather. Usually the collar, pockets and under the sleeves get the most wear from friction and rubbing. Leather will naturally break in unevenly over time so be sure not to be too precise.
3. Get caught in a light rain. Water will soften up the leather and allow you to stretch and crease at specific points on your body. Many people will tell you to put your leather jacket in the washing machine and dryer, which is a very effective method but will cause serious shrinkage of the leather. In order to avoid shrinking your jacket significantly, wear it through a light drizzle until the leather is damp. Bend your arms, find a punching bag, or do some pushups, anything you can to get some wrinkles in the right places while the jacket is wet until it dries on you. If you can't wait for the weather, lightly spritzing the jacket with water will work too, but just be sure to do it slowly and not to drench it. As it dries it will form to your body.
4. Rough it up. To take off some of the finish in highly worn areas, use steel wool to lightly and unevenly scratch the surface. Sandpaper is generally too abrasive and harder to control. Remember to use uneven strokes and go very slowly to check your progress because you can't go back and erase the scratches. However, the jacket will continue to change and break in over time so if you make a mistake just try rubbing this area more as you wear it to naturally break it in. Crumple the jacket in a ball, tie it up with twine and play catch with it; the more you throw it around and soften it up, the more it takes on your unique shape and fit.
5. There is no substitute for just wearing it. Each Schott jacket starts as a blank canvas for years of wear and customization. Each scratch and nick tells a story unique to the person wearing it whether it is on their motorcycle for a cross country road trip or to the ball game and back.
The Schott NYC Jacket Giveaway
A lot of leather jacket makers try to spin stories about their company's heritage (even if they go way back to 1980) while making World War II-style jackets. Schott's, on the other hand, is a true-blue, real-deal, slice of Americana. In 1913, brothers Irving and Jack Schott started making raincoats in a basement on the Lower East Side of Manhattan. Innovators from the beginning, they were the first to put a zipper on a jacket and the first to design and produce a leather motorcycle jacket (the Perfecto-named after Irving's favorite cigar). At the start of World War II, Schott's was commissioned by the military to make bomber jackets for its airmen and pea coats for its sailors. Schott's would produce these leather and wool jackets for the US Military for the next 60 years.
Post-war, Marlon Brando made Schott's Perfecto motorcycle jacket famous in the iconic film The Wild Ones. And James Dean added to the legend, wearing the jacket everywhere he went until his tragic death.
Today the company is still run by third and fourth generation members of the Schott family. They still make most of their coats and jackets right here in the USA. And they still design their outerwear with a rugged, manly style that manages to invoke both tradition and quality and freedom and rebellion.
Now one of these babies can be yours. Enter the Schott NYC giveaway for a chance to don one of these legendary coats and jackets. You have two ways to enter: leaving a comment or Twittering about the contest. Do both to up your chances of winning.
1)Leave a comment
Visit the Schott NYC website and pick out the coat or jacket you would like to win if you are so lucky as to have your name drawn. Schott's will give you any jacket up to $500. If you have your eye on one over $500, that's okay, as long as you're willing to pay the difference.
Leave a comment sharing your selection with us.
2) Twitter It!
Twitter this message to enter:
Just entered to win a Schott NYC Leather Jacket. Just retweet to enter yourself: https://www.artofmanliness.com/kOze
A winner will randomly be drawn and will receive one jacket up to $500 in value!
The contest ends Monday, December 14 at 11:00 pm CST.
Follow Schott on Facebook and Twitter:
twitter.com/schottnyc and facebook.com/schottnyc
Last updated: November 16, 2017