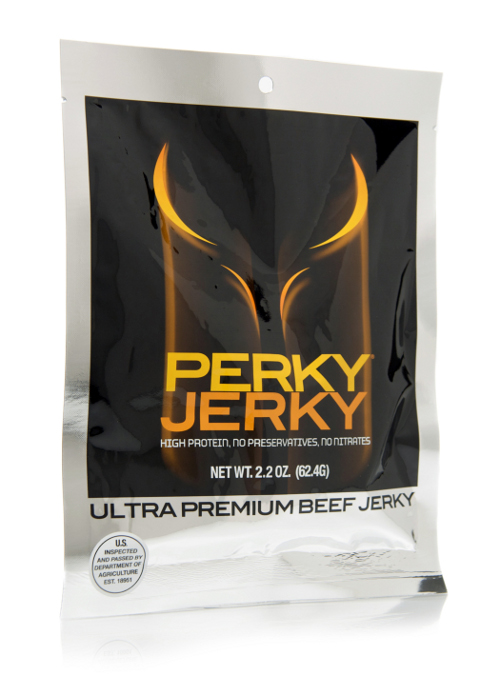 What the heck is Perky Jerky?
Well, let's get something out of the way first: it's not jerky made for the beef jerky purist.
First, the name of the brand includes one of the least manly words in the English language.
Second, each serving of the jerky contains as much caffeine as a small cup of coffee. It's touted as a performance-enhancing meat snack. Yes, really.
Wha? Caffeinated jerky? I know, I was pretty wary myself at first.
But here's the thing–it's delicious. Really delicious.
Around Christmastime, I decided I wanted to branch out from the big brand jerkies out there and try some local fare. So I went down to my local jerky store–yes, you heard that right, my local jerky store–and bought like six different brands that are made here in Oklahoma.
They were terrible. All of them. So dry it was like chewing on a piece of shoe leather. I threw half of it away, I couldn't even stomach it, and I can stomach most anything.
This is why I've become a big fan of Perky Jerky. It's the most tender jerky I've ever tasted. It's flavored with the Amazonian guarana berry–that's where the caffeine comes from–and it has a unique sweet taste that is uber-addicting. The jerky is packed with protein, is low fat and low carb, and is made without junk like nitrates, preservatives, or added MSG. A most excellent snack all around.
I never expected to embrace this new-fangled energy-meat, but what can I say: it's weird, but wonderful.
Perky Jerky offered me 12 bags of their jerky to give away to one lucky AoM Trunk reader.
If you'd like to try this jerky for yourself, leave a comment telling us something you need more energy for.
We'll randomly select one comment as the winner. Giveaway ends Jan. 18, 2012 at 5:00 pm CST.
{ 315 comments }