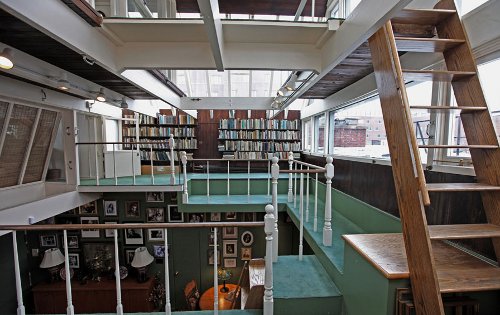 Norman Mailer, author of manly books like The Naked and the Dead, died in 2007 and now his Manhattan apartment is up for sale. A passionate sailor, Mailer created his unique, multilevel pad with a nautical feel, complete with ladders, galley-like floors, narrow parapets high above the living room and a gangplank that had to be crossed to get to Mailer's writing "crow's nest." This "jungle gym at sea" was filled with Mailer's interesting knickknacks. At one time the apartment also had a "hammock strung up between the rafters, a trapeze swing dangling from the ceiling and a rope ladder." Sounds like a pretty fun place to live. And for $2.5 million the apartment can be yours, Mailer's possessions included.
Read the Whole Article: Norman Mailer's Last Home Still Reflects His Life (@NYT)
Check out the photo slideshow of Norman Mailer's apartment.
Note: I've gotten pretty good at anticipating comments, so let's say right at the outset, that yes, Norman Mailer was married six times and wasn't always the best dad. You can admire a man's apartment and his work without having to model every aspect of your life on him. Sigh.