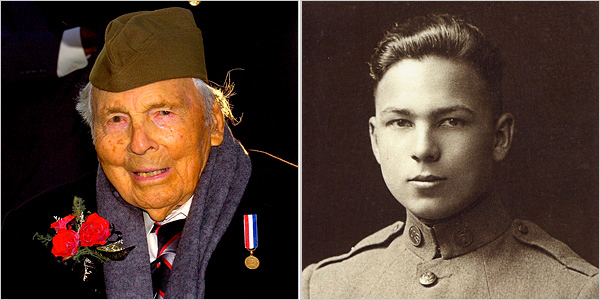 Yesterday, the last living American WWI veteran died at age 110. Frank Buckles lied about his age to join the Army in 1917 and went to war as a 16 year old. He volunteered to drive ambulances because he heard that was the fastest way to get in the action. After the war he worked for a steamship company and was captured as a civilian by the Japanese during WWII and kept as a prisoner of war. Later in life he ran a cattle ranch and was still riding his tractor until age 104.
Buckles was the last WWI soldier to die. The only other two veterans of WWI that remain are  "Claude Choules, who served in Britain's Royal Navy and now lives in Australia, and Florence Green, a member of Britain's Women's Royal Air Force and who lives in England."
I remember my dad saying that when he was growing up, the Veteran's Day and Fourth of July parades were filled with WWI vets. And then they slowly disappeared. Today, WWII veterans are vanishing in the same way. Of the 16 million people who served in WWII, only 2 million are still with us today. And they are dying at a rate of 1,000 a day. So if you know an old veteran, be sure to take the time to have him tell you his story before he and his history pass forever from the earth.
Frank Buckles, Last World War I Doughboy, Is Dead at 110 – NYTimes.com.