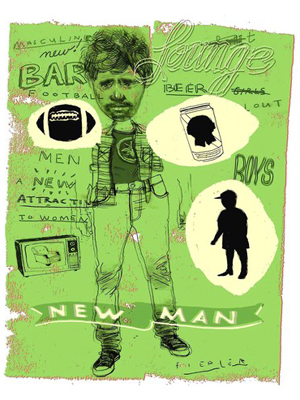 An interesting article at the LA Times about the rise of the lout – young men in their 20s and 30s who dress like slobs, disdain women, and just want to indulge in their teenage boy fantasies. From the article:
[The lout] seems to be a form of passive-aggressive revenge against what some men see as the indignities feminism has forced upon them — indignities that have been exacerbated by economic hardship.

The lout is not exactly a reversion to the old macho stereotype. He isn't tough, muscular, steely, monosyllabic, able to build a car engine or a house singlehandedly or sail around the world solo. He's not a sophisticate either, a Dos Equis most-interesting-man-the-world type. He doesn't dress to the nines or know his wines or drive a Porsche, and he isn't able to make witty cocktail party repartee. A lout is someone who is proudly stuck in a kind of adolescent parody of manhood that conflates insensitivity and machismo.
Read the whole story- Louts are taking over the planet – latimes.com.
Discuss.
Hat tip to Joel for bringing this article to our attention.