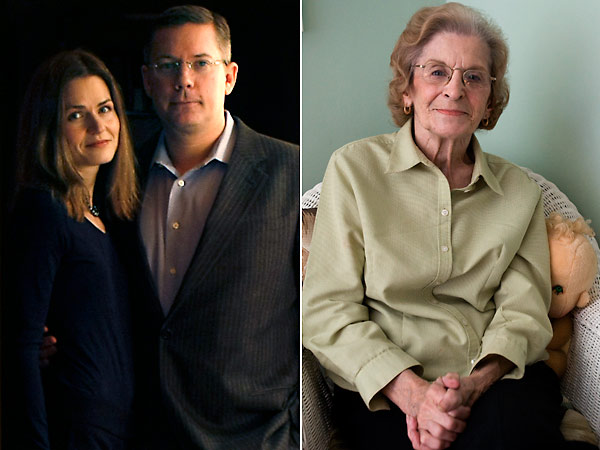 This story from The Chicago Tribune is one of the best stories of manliness in action that I've come across in awhile. While big acts of courage like that of the Gorkha soldier are amazing, manliness is also about doing the right thing in the small, day to day decisions that we make.
Just like the way Dean Germeyer helped out Elsie Clark, a little old lady in distress.
Germeyer, 78, who has a bad hip and has to use a wheelchair when traveling, was returning home to Canada after visiting her family in Texas. An airport employee had caused her to miss her flight out of Dallas and then her next flight was delayed due to weather.
"I was so thirsty and hungry," said Clark, who lives on a fixed income. "I felt absolutely deserted and I was scared because I kept thinking, 'What is going to happen in Chicago if I miss my plane?' I would have to sit on the hard airport bench all night."

But as Clark looked down, trying to hold back tears, she noticed the polished shoes of a man sitting nearby.

"I wanted to talk to somebody to get my mind off things for a little while," said Clark. Growing up poor, she said, her mother taught her that people who dressed well respected themselves and other people. "So, I said, 'Sir, do you mind telling me what you do because I've always admired shiny shoes.' "

Dean Germeyer, 43, who runs a technology consulting group in Chicago, did not mind at all.
Germeyer then took Clark under his wing. He arranged for a wheelchair to be ready for her when they landed in Chicago and when the plane touched down, he whisked her to her gate. But she still missed the plane; she would have to stay the night and the gate agent offered her a discounted rate on a hotel.
But Germeyer said he did not feel right leaving her.

"She is somebody's grandmother," Germeyer said. "And to slide this piece of paper across the desk and say, 'Here is your voucher, good luck,' when she hasn't eaten, doesn't have her luggage and doesn't know Chicago … that really aggravated me."

So Germeyer called his wife, Nina, who had dinner waiting at their Streeterville condo, and asked her to arrange an extra place setting.

"This is why I married Dean," said Nina Germeyer, 41. "He couldn't know that this little old lady was going to just sit at the airport all night while he went home and had a nice meal and a warm bed."

But Germeyer did not stop there. After taking Clark to his condo, on the 55th floor of a building just off of Michigan Avenue, he took her on a brief city tour before putting her up in a suite at the Affinia Hotel next to his building.

Then he arranged for a car to take her back to the airport the next day.

"He even gave me a new toothbrush and toothpaste," Clark said. "I just sat down when I got to the hotel and I cried and cried and cried. Everything he did for me was just so beautiful."
Germeyer asked for nothing in return.
Dress well. Act with chivalry. Be a man!
Read the whole article on the Chicago Tribune.
Hat tip to Steve S. for the link.