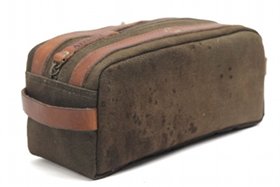 I've started to write a bi-weekly column at the personal finance blog, Currency. I'll primarily be writing gear and tech reviews directed towards men, but I also plan on writing a bit on entrepreneurship.
My first article launched today and is about awesome Dopp Kits that look manly and will last a lifetime.  I had a fun time writing it and I hope you enjoy reading it. Check it out!
5 Dopp Kits Built to Outlast Your Travels | Currency from Amex.