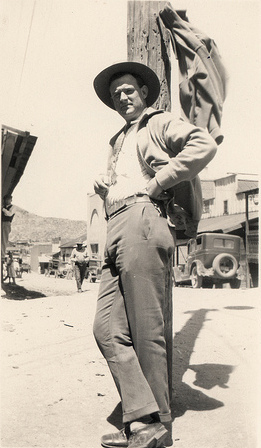 Over at A Gentleman's Journal, Ryan Lee made an awesome, evocative list of the things he loves about being a man. Here are some of my favorites:
A good, long, close shave. Shaving cream, with the grain. Shaving cream, against the grain. Cold water, aftershave.
My old Central Football shorts
Scars on my hands. Each one a story.
The smell of a locker room. Stale sweat and cologne. Weird I know, but it's nostalgic.
The 'PING' of an aluminum bat
The sight of a beautiful woman. And contrary to popular belief, it is possible to admire a woman's beauty without thinking of sex.
Work boots
Peeling an apple with a pocket knife
The smell of an old barbershop. Barbicide, hair tonic, the faint smell of old smoke
Emptying my pockets when I get home
Waking up in the woods, to the still hot embers of last night's fire
My Grandfather's comb. I still use it.
Be sure to check out the whole list over at the Gentleman's Journal.
What do you love about being a man?