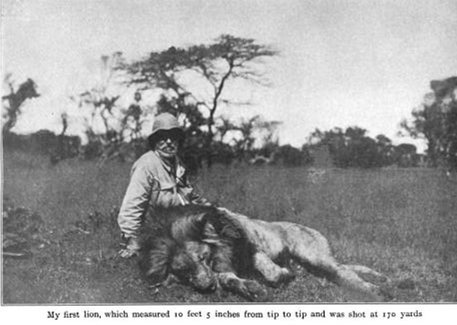 Just in case you were wondering.
From The Land of the Lion, 1874
By William Stephen Rainsford
Unless you want to waste money do not buy your shooting clothes till you reach Nairobi. There you can get an admirable choice of khaki stuffs and have them very well made for about a third of what you must pay your London tailor, one fifth of what your New York man will demand. Three good suits are sufficient for a year's work. They will not weigh three pounds a suit, and will cost about one pound each.
Study the question of pockets. Have plenty and have them large. Each little contraption that you must carry with you daily should have its own pocket. Thus you can always find it quickly and, always keeping it there, you will not leave camp without it.
Have four wide, deep pockets in your khaki hunting jacket, good flaps buttoning over them, to keep out rain.
The best place by far to carry your field glasses, is in the left breast pocket of this jacket; the narrow leather strap of the glass passed round your neck. They can then be used instantaneously, which is most important. Carried in a leather case slung round the shoulder, they are practically useless for quick work, and in stalking the case is very much in the way. The right hand lower pocket of the shooting jacket is the best place for handy cartridges. The leather holders, London gun makers insist on pressing on you and charging you very highly for, are useless things. Unless your gun boy constantly takes out the cartridges in them, the dampness of your body produces verdigris on the cases, and they stick. If the leather cover over them is not buttoned, every drop of rain falls full on the one exposed part of the cartridge, the butt, and dampness once in there, a misfire is certain. You cannot afford misfires in Africa. In thirteen months constant shooting I had just one. Then I never carry my cartridges on a leather belt, and if the rain has got into my pocket, I promptly throw away the cartridges that had been in it. I think the right pocket of the jacket, and if you want to carry two sorts of cartridges, as sometimes you will, the right trousers pocket, are the best places in which to stow them. A big cotton handkerchief can be thrust into the left breast pocket over the glasses. There will then be little chance of their becoming thoroughly wetted. Save your Zeiss glasses from wet. Once the dampness gets in they must be cleaned or they may take weeks to dry off. Always take an extra pair; you can get your money back for them.
Tobacco, pipe, matches, notebook, will fill the other two jacket pockets. Compass, measuring tape, pocket knife, and a bit of string, always useful, will fill your capacious trousers pockets. If you are obliged, as I am, to wear glasses, then have an extra big pocket made down the front of your left leg. There carry your cases, and an extra pair of spectacles. It is the safest side. Wear a strong leather belt, with a short, light, tested, hunting knife on it: wide in the blade; thin in the back.
Always carry a whistle, and teach your men to come immediately to its call…I have a whistle pocket in all my jackets, high up on the left side.
Now, one thing more. Fill your pockets over night. Always fill them, and keep them filled. You cannot rush off without your clothes, you can rush off leaving many necessary things behind you. There is nothing more annoying than to have to wait on a man in the early raw morning, while he rushes round in the murk looking for the essentials which should have been carefully stowed in his pockets the night before. It is a bad way to begin the day.