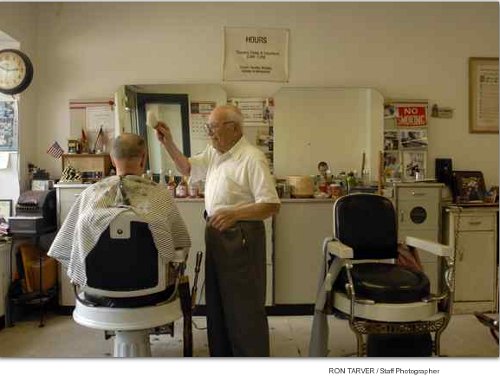 I love hearing about old-time barbers that are still in business. Few have had as long a career as Frank William Salemno; he's almost 88 years old and has been cutting hair on the top of Philadelphia's Chestnut hill for 70, 70! years. He bought his shop in 1940 for $40, and while he's been offered half a million to sell the place, he's staying put. He's still having too good a time and so are his customers. There aren't too many places left where your barber can tell you stories of fighting on Iwo Jima and shaking FDR's hand while he cuts your hair. Frank thinks of his customers as friends and the sentiment is returned. Sounds like a great place.
Read the whole article: "Barber-Raconteur a Fixture on Chestnut Hill for 70 Years."
Hat tip to Mark Murphy for finding this article.