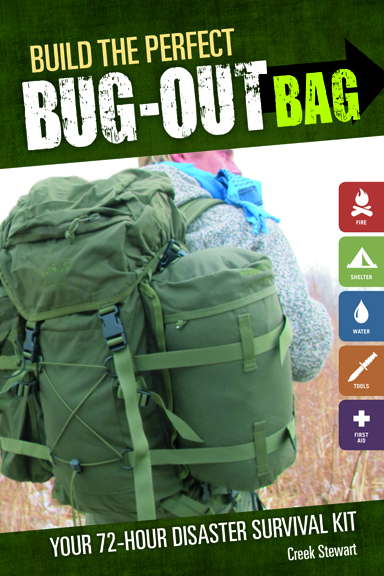 Creek Stewart is a survival expert and instructor at Willow Haven Outdoor. He also occasionally writes incredibly awesome articles for AoM, such as How to Field Dress a Squirrel, How to Make a Survival Shotgun, and, one of our most popular articles of all time, How to Make a Bug Out Bag. If you're one of the many readers who found that post interesting and useful, consider preordering Creek's new book on the subject: Build the Perfect Bug Out Bag: Your 72-Hour Disaster Survival Kit. The 200 page book includes 350 photos and goes much more in-depth about building and using your Bug Out Bag. The book covers:
A complete Bug Out Bag checklist that tells you exactly what to pack based on your survival skill level
Photos and explanations of every item you need in your bag
Resource lists to help you find and purchase gear
Practice exercises that teach you how to use almost everything in your bag
Demonstrations for multi-use items that save pack space and weight
Specific gear recommendations for common disasters
The book even includes special considerations for bugging out with children, the elderly, the physically disabled, and even pets.
If you've enjoyed Creek's articles on the Art of Manliness, give the man some support by preordering Build the Perfect Bug Out Bag: Your 72-Hour Disaster Survival Kit!