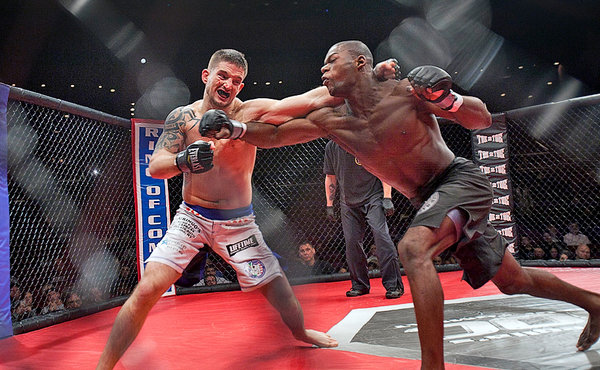 The NYT had an interesting article this week that focused not just on the rise in popularity of Mixed Martial Arts, but how the sport ties into the modern culture of manhood:
But in the faces of Mr. Ettari and the 16 friends with whom he had traveled to Atlantic City — including his identical twin, Anthony — one could read the significance of M.M.A. itself. To this generation, who came of age alongside the notorious sport, mixed martial arts has come to represent everything that boxing once did to their fathers and grandfathers: the ultimate measure of manhood, endurance and guts.

"Boxing isn't the biggest, baddest sport on the block anymore, and it hasn't been for years," said Jim Genia, 41, the author of "Raw Combat, the Underground World of Mixed Martial Arts." Today, he said, M.M.A. is "the one sporting endeavor that encapsulates what it means to be a warrior."
The author traces some of the interest in MMA to the film Fight Club:
For many parents, their young sons' near-obsessive attraction to mixed martial arts is puzzling, to say the least. Some pinpoint its origins to the David Fincher film "Fight Club," a movie that, in the 13 years since its release, has had a cultural resonance far beyond its modest box office numbers.

Jan Redford of Squamish, British Columbia, said that her son, Sam, now 20, became fixated on mixed martial arts when he was 15, partly as a result of that film and the following it generated among his peers.

"They had a fight club at his high school," said Ms. Redford, who ultimately allowed her son to train in hopes of channeling his aggression. "They'd punch each other as hard as they could and not be able to show pain."
While some parents like Ms. Redford are "horrified" by the sport, other parents see it as a healthy outlet for their sons. MMA-themed birthday parties have even become popular apparently.
And the popularity of MMA cuts across lines:
The fascination with the sport has even seeped into the walls of academia. Robert Thompson, a professor of popular culture at Syracuse University, said that many of his male students wanted to write papers about mixed martial arts. And they are not always the students you would expect.

"People who don't know these sports very well think their fans must be these kind of crazed, people-on-the-verge-of-a-breakdown, violent kind of thing," he said. But the students he sees who are most interested in the sport "tend to have really good grade-point averages and be really fine students," he said. "This is not something that smart young people look down their noses at."

He agreed that the impact of "Fight Club" could not be discounted; it became a manifesto for a generation of boys who felt estranged from their masculinity. "It became this kind of magnum opus, and it described a certain culture of this kind of sport," Professor Thompson said. "This was their thing, and they defined themselves accordingly."
What do you think of the popularity of MMA? Do you think it relates to modern manhood? And if so, is it a good sign or a bad sign of its state?
Read the whole article: "The Fight Club Generation" (@NYT)