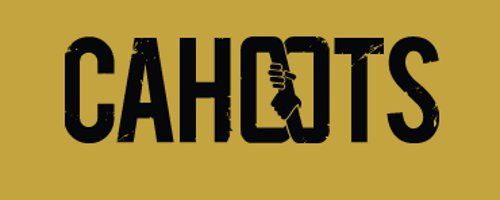 Obstacle races and mud runs like the Warrior Dash and the Tough Mudder are becoming increasingly popular. And for good reason: they're challenging and a ton a fun.
AoM reader Devon Anderson is starting a new obstacle race with a great twist. Anderson did the Tough Guy Challenge in Wolverhampton, England three times and worked as a facilitator at a ropes course while in high school, and he got the inspiration to combine those two experiences together. The result is the Cahoots Duo Challenge. The Cahoots Duo Challenge is a race series where you and a friend combine wits, strength, strategy, and stamina to negotiate a barrage of nearly two dozen unique obstacles and challenges. All Cahoots courses have been specifically and creatively designed to prove the resolve and test the limits of even the toughest of twosomes. You'll carry, push, pull and roll one another over and through a variety of perils and hazards. You'll swing over energy sapping bogs on the Siamese Trapeze, build precarious bridges, and scale 10′ walls. You'll have to rely on each other, trust each other, and work together or you can't progress through the course. Basically, it's an obstacle course that's specifically designed to be done as a pair.
I think it's an awesome idea!
The first three Cahoots events are scheduled for the following times and places:
Phoenix, AZ, Saturday April 28, 2012
Salt Lake City, Utah, Saturday August 11, 2012
Dallas, Texas, Saturday October 27, 2012
Cahoots is giving away two free registrations (for you and your partner) for each location. To enter to win, leave a comment telling us 1) Which race location you'll enter if you win, and 2) The location closest to you where you'd like to see a Cahoots race come next.
Cahoots will be expanding across the country, so follow them on Facebook to get the latest event venue updates.