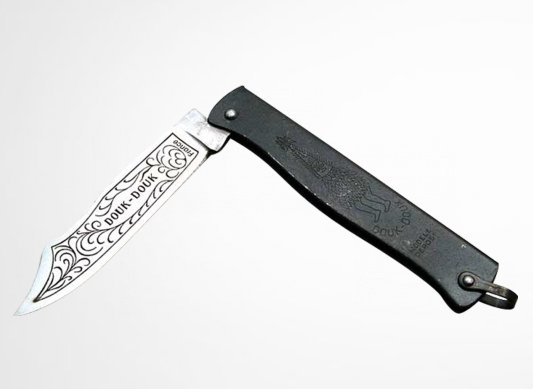 Started several months ago by Brooke and Jared Zaugg, Bench and Loom is an online shop that's hard to describe succinctly. First off, they sell premium, uncommon, well-crafted clothes and goods that are inspired by men of the past who had style and substance–classic, timeless stuff. Second, they write profiles of the men who provide this inspiration. Third, they write profiles about the workshops where the clothes are made. Fourth, they find cool classic clothes from old movies and have people vote on which item they'd like to see brought back to life for a limited edition production. Oh, and they also maintain a blog with travel stories and commentary. So yeah, it's an interesting site to poke around on.
For the purposes of this giveaway, all you need to know is that Bench and Loom is giving away a very cool knife: a M.C Cognet Douk-Douk Pocket Knife. These simple, steel, hand forged slipjoint knives have been made in France since 1929. They started out as utility knives for the ordinary working man and then got picked up by the likes of the French Foreign Legion. Soldiers loved the fact that the knife could easily be sharpened to a razor's edge, and, with some hammering and tinkering, converted into a fixed blade dagger. Douk-Douk knives are perfect for everyday carry as they're flat, lightweight, and sturdy as all get out.
Bench and Loom is giving away one of these unique pocket knives to a lucky AoM Trunk reader. To win, leave a comment telling us about your go-to pocket knife (or how you wished you had one!).
One winner will be randomly drawn from the comments. Giveaway ends February 28, 2012 at 8:00 pm CST.
UPDATE: Contest is closed. Winner will be announced shortly.