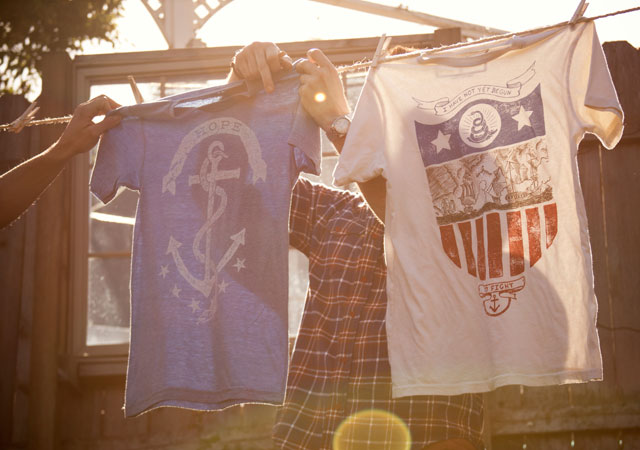 In a world where thousands of graphic tee companies print up doofy and forgettable designs on their shirts, Declaration Clothing really stands out. Inspired by the American Revolution and the Spirit of '76, their knits and handmade goods feature some of the coolest and most unique designs around. Their tees give homage to the virtues of simplicity, liberty, and patriotism, and incorporate unique historical symbols like the U.S.A. monogram that was engraved on the buttons of the Continental Army's officers during the Revolutionary War and Benjamin Franklin's famous "Join or die" woodcut.
Declaration Clothing is giving away two items from its shop to two lucky AoM Trunk readers. To enter to win, simply browse through Declaration Clothing's offerings, and leave a comment telling us which item you'd like if your name is drawn as the winner (except for the wallet–they only have one left unfortunately). Don't leave a link, as this can get your comment marked as spam–just the name of the item will work.
Giveaway ends Feb. 12, 2012 at 10:00 pm CST.
Update: Contest is over. Check back soon for the winner.