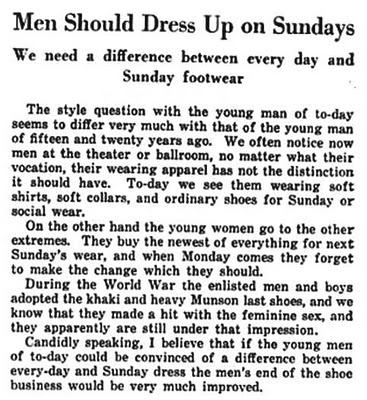 Dress up on Sunday. It's good for shoe salesmen.
From Boot and Shoe Recorder, 1921
Men Should Dress Up on Sundays
We need a difference between every day and Sunday footware
by By O. A. Hensel, Milwaukee
The style question with the young man of to-day seems to differ very much with that of the young man of fifteen and twenty years ago. We often notice now men at the theater or ballroom, no matter what their vocation, their wearing apparel has not the distinction, it should have. To-day we see them wearing soft shirts, soft collars, and ordinary shoes for Sunday or social wear.
On the other hand the young women go to the other extremes. They buy the newest of everything for next Sunday's wear, and when Monday comes they forget to make the change which they should.
During the World War the enlisted men and boys adopted the khaki and heavy Munson last shoes, and we know that they made a hit with the feminine sex, and they apparently are still under that impression.
Candidly speaking, I believe that if the young men of to-day could be convinced of a difference between every-day and Sunday dress the men's end of the shoe business would be very much improved.