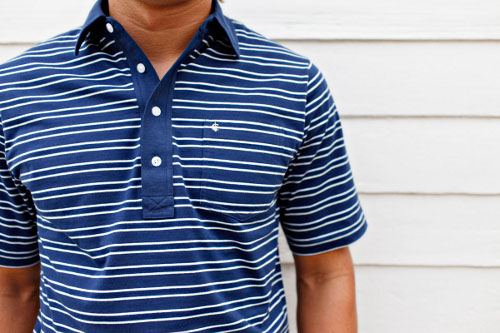 It's hard to find a good polo shirt. They can be baggy and unflattering, making you look like a nerdy dad. Or they can be coarse, heavy, and uncomfortable. They can be too preppy-looking and evoke the douche-y frat boy stereotype.
Billy Nachman and Hobson Brown understood this quandary all too well. They spent their lives on a quest to find the perfect polo, and kept coming up short. Billy's grandfather had passed down some great golf shirts from the 70s, but when those wore out, the guys were once again favorite polo-less. So they decided to take matters into their own hands and create their own polo and golf shirts. Polos made with soft organic cotton. Polos with a vintagey vibe, but a modern style. Polos at home on the links, but well-suited for the non-preppy man around town. And so Criquet Shirts was born.
I give these shirts my personal Brett approval. I've always loved retro-looking golf shirts, and this one actually makes me look handsome, or so says my wife.
Criquet was kind enough to offer up two shirts for two AoM Trunk readers to win. If you'd like to get your hands on one, visit the Criquet website, pick out which style/color shirt you'd like if you win, and leave a comment letting us know your selection (just a description, not a link).
Two comments will be randomly drawn as the winners. Giveaway ends Feb. 6, 2012.
Update: Contest has ended. Check back soon for the winner.