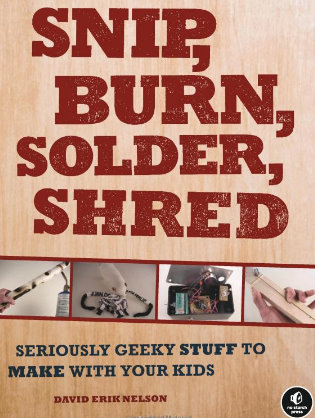 Need a last minute gift idea for a dad who'd like to do more hands-on projects with his kids in the new year? Allow me to recommend the book Snip, Burn, Solder, Shred by David Erik Nelson. The book is packed with tutorials on how to make 24 fun, cool, and quirky projects. Such as:
Lock-n-Latch Treasure Chest
The Dirt-Cheap Amp
The $10 Electric Guitar
Cardboard Boomerang
Pop-Can Flyer
Fedex Kites
Marshmallow Muzzleloader
Electro-Didgeridoo
Almost all the projects can be made on the cheap, frequently employ materials you'll already have lying around the house, and are designed for the absolute beginner–even if you've never had any experience doing the kind of skills involved in the project, the result will still probably turn out well. You and your kids will both learn new skills, and you'll enjoy the projects just as much as they do. You can start on your first project on Christmas Day–once the four hours of interest your kids show in their new toys wears off.