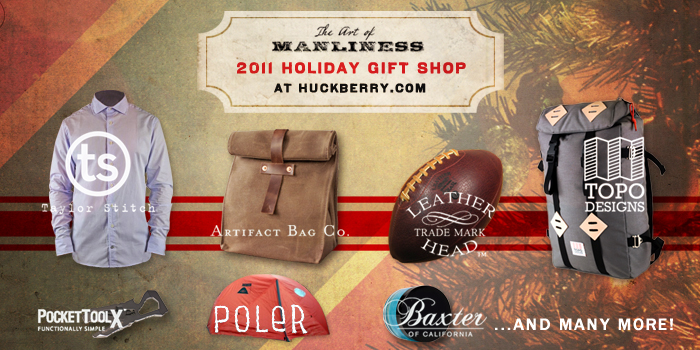 Have you checked out the AoM/Huckberry 2011 Holiday Gift Shop yet? Well you better hustle over there, because the shop closes December 15th. That means you only have two more days to pick up some very cool and manly items at special private sales prices that are only available to AoM readers who sign up to the site.
If you've been waiting to see if you won the AoM/Huckberry giveaway before making your purchase, I am sorry to say that if you have not personally heard from Santa John Sullivan by now, your name was not drawn as one of the winners. Two Joe's won the giveaway and each chose an item from Leather Head Sports: one picked the Handsome Dan football and one chose the Lemonball. You can't go wrong with either of those handcrafted, Made in America beauties!
Even if your name wasn't drawn for the giveaway, you can still be a winner by buying someone on your list a nice hammock or a manly lunch bag. You just got to hurry to make it happen! Again, last day to buy something from the shop is December 15th!