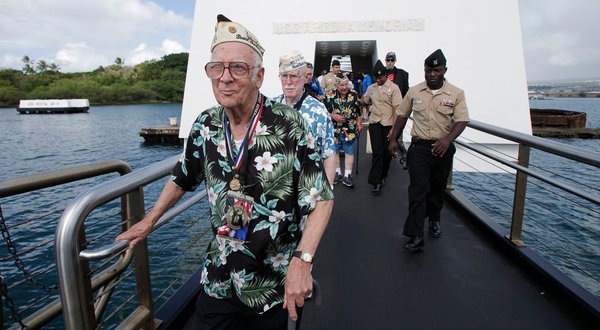 I always find it poignant to hear about the passing away of my grandfather's generation. So it was with heavy heart that I read this week's article in the NYT about the disbanding of the Pearl Harbor Survivors Association. Today is the 70th anniversary of the attack on Pearl Harbor, and this will be the final anniversary marked by the association, which will disband on Dec. 31. Because of deaths, illness, and old age, there aren't enough survivors to keep things going. The association was started in 1958 with 28,000 members; there are now just over 2,700 left, although that number is likely exaggerated.
It's hard for the remaining survivors to see this happen, especially because it means there are fewer of them to tell their tale firsthand:
The fact that this moment was inevitable has made this no less a difficult year for the survivors, some of whom are concerned that the event that defined their lives will soon be just another chapter in a history book, with no one left to go to schools and Rotary Club luncheons to offer a firsthand testimony of that day. As it is, speaking engagements by survivors like Mr. Kerr — who said he would miss church services on Sunday to commemorate the attack — can be discouraging affairs.

"I was talking in a school two years ago, and I was being introduced by a male teacher, and he said, 'Mr. Kerr will be talking about Pearl Harbor,' " said Mr. Kerr. "And one of these little girls said, 'Pearl Harbor? Who is she?'

"Can you imagine?" he said.
Read the whole article: "Pearl Harbor Still a Day for the Ages, but a Memory Almost Gone" (@NYT)