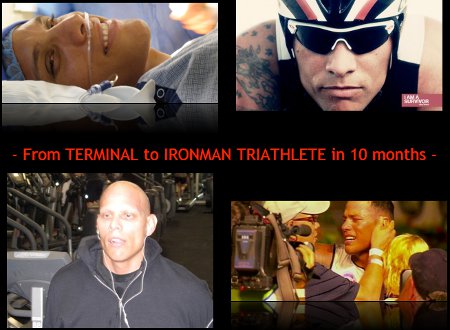 Here's an inspiring story for you. Clayton Treska, a Marine Corps vet who served in the Gulf War, was diagnosed with Stage 1 testicular cancer is 2008. He underwent chemotherapy and was declared in remission. Treska decided he wanted to fulfill two goals: completing an Ironman and going to college. But two years later the cancer came back–far worse than before. Stage IV Terminal Cancer. The doctors thought he wouldn't make it. But Treska decided to undergo an experimental treatment…and didn't give up on his dream of completing an Ironman either. He trained while undergoing the treatment…while still in the hospital. And 10 months after his diagnosis, he crossed that finish line where few have traveled.
You can watch him in action in this video:

As the video alludes to, Treska wasn't sure if/when the cancer would come back. And tragically it has; he's currently fighting another bout of it. Treska has made it his mission to help, inspire, and offer resources to other folks who are dealing with cancer. You can help him and others like him by donating to causes like Movember (tomorrow's the last day)!