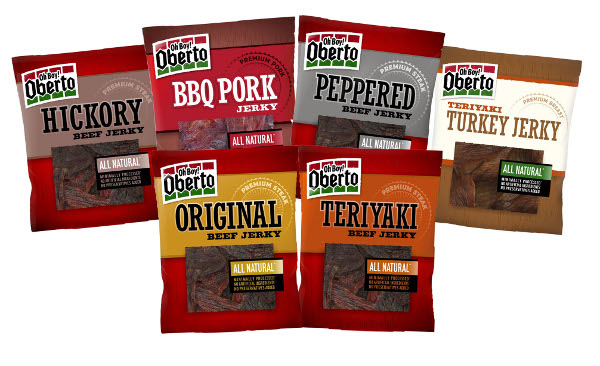 There has always been a lot of independent jerky makers out there who made jerky without all the artificial crap found in mainstream varieties. But this was of no help when you were stranded at a grocery or convenience store somewhere and wanted to get a tasty, protein-y, relatively healthy snack. You were left having to snap into a SlimJim. So it's cool that Oberto's (a company with real Italian-American roots that goes back almost a century) has overhauled its jerky and become the only major jerky brand to offer an all natural line. Their new better quality jerky is made with no artificial flavors, no artificial additives, no corn syrup and 30% less sodium than other national brands.
And Oberto's is giving away a dozen bags of their new all-natural jerky to a lucky Trunk reader. Oh Boy! Indeed.
This is one of those giveaways where I wish I could win the prize myself. They sent me 3 bags and they were delicious. I could have really used 9 more. I freakin love jerky. If you'd like to be a luckier man than I, enter to win.
Entering is easy, just leave comment with what flavors you'd like if you win. You can pick any assortment of the following:
Hickory
BBQ Pork
Peppered
Teriyaki Turkey
Teriyaki Beef
Original
Giveaway ends Nov. 25, 2011 at 10:00 pm CST. We'll randomly draw one comment as the winner.