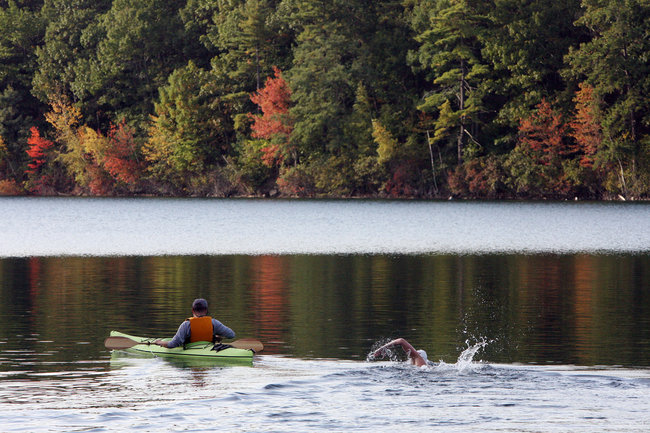 While writing the Warrior archetype post, I came across this article in the NYT about an Olympic hopeful in the sport of open-water swimming. I felt like the piece had some uncanny parallels to the characteristics of the Warrior, which was cool, because the archetype stuff can seem really abstract, and this shows a very concrete example of what the activation of the Warrior archetype might look like in the life of a real modern day man. I recommend reading the whole piece. Here are some excerpts along with the Warrior qualities they reminded me of:
Comfort with Pain
Describing the appeal of the sport, Meyer said: "There's something beautiful about man at his absolute breaking point. It hurts and it hurts and you keep pushing. Your body says no but your mind says yes." He added, "It's like a feeling of euphoria."

'Outsuffering' Others

Meyer's affinity for pain surfaced early. At 8, he was on the swim team at the Y.M.C.A. in Glens Falls, N.Y., when one of his friends was elevated to a more accomplished group in which the swimmers trained longer and harder. Meyer's mother, Shawn, recalled, "Alex said: 'I want to swim in that group. I want to do more yardage.' "

His grades improved — Meyer graduated in 2010 with a degree in evolutionary biology — but his coordination out of the water never did. Early in Meyer's senior year, he broke his back while trying to make a catch in an Ultimate Frisbee game and spent almost two months in a brace.

He managed to resume swimming in time to earn all-American honors in the 1,650-yard freestyle. His Harvard teammate Sam Wollner, whom he doggedly chased for two years in the distance lane, was not surprised. He had borne daily witness to Meyer's capacity to "outsuffer anyone," as he described it.

Wollner recalled that Meyer took an almost demented delight in the high-mileage sets — grueling gut checks like 32 laps repeated 10 times with little rest in between — that drove other swimmers to take extended bathroom breaks.

"We'd do sets where we were testing our aerobic threshold, and some people, as it got harder, you could tell they wanted out of it," Wollner said. "Alex got a little more ferocious, a little more intense about it."
Adaptability
It takes a certain temperament to thrive in open water. The competitions are held in lakes, rivers and oceans in wildly varying conditions, all of which present physical, psychological and pelagic challenges. To excel requires a flexibility that has nothing to do with being double-jointed.

The best open-water swimmers are able to adapt to an environment that constantly changes. In transforming himself from a national-caliber pool swimmer to a world champion endurance athlete, Meyer has shown an extraordinary ability to persevere in the face of the worst adversity.

Paul Asmuth, who dominated open-water swimming in the 1980s, long before it was on the Olympic radar, said, "I've noticed that if something happens to Alex's plan, he's able to make a new plan and not get upset by it."
Aggression
"I like that it's a much more intimate racing environment than a pool, where you're separated from the other swimmers by lane lines," Meyer said. "In open water, you're literally banging up against the guy you're competing against. I secretly have always wished I played a contact sport and had an outlet for that little bit of pent-up aggression. I love the physical battle. I feel like when I'm in a race, it's not a gentleman's club, it is war."
 Loyalty and Purpose
Meyer has pictured himself listening to "The Star-Spangled Banner" while standing on the awards podium in London. Winning an Olympic medal — preferably gold — was a dream he shared with Fran Crippen, another pool swimmer who took to the open water like a dolphin.

Crippen, a Philadelphian who was four years older, befriended Meyer, the new kid on the national team, in 2009. Crippen was an open book on the sport, and Meyer committed to memory all of his tips on strategy and technique.

A two-time national champion in the pool before becoming the American standard-bearer in open water, Crippen finished third in the 10-kilometer at the 2009 world championships and won silver medals in the event at the 2006 and 2010 Pan Pacific Championships.

The 2010 competition was held in Southern California, and Crippen most likely lost the gold medal when he doubled back during the race to check on Meyer, who was ill and struggling.

Two months later — a year ago Sunday — Crippen died during a 10-kilometer race contested in the United Arab Emirates. The water temperature was in the mid-to-high 80s, ideal only if you are floating lazily on your back.

 Meyer, recovering from an appendectomy, attended the event in hopes of racing but ultimately could not. He led the search for Crippen, whose body was found just before the last buoy on the triangular course. An autopsy concluded that Crippen died of heat exhaustion and drowning.

Crippen, then, is never far from Meyer's thoughts. Sometimes his mind plays tricks on him and he can feel Crippen beside him, matching him stroke for stroke.

"He affected me as a swimmer but even more as a person," Meyer said.

"He was such a good son, brother, friend," he added. "In the water he had this aura, like Michael Jordan."

Like the woman in the wedding gown, Meyer, then, is on something of a memory-keeping mission. He carries a photograph of Crippen to every competition and takes a photo of the photograph at each site, as if to say, "Look, Fran was here."

"I'm pursuing my lifelong dream for myself," Meyer said, "but I'm doing it for Fran, too."
Knowing Your Limits and Only Taking Necessary Risks
Would he swim the 25-kilometer race (15 ½ miles) in conditions eerily similar to those in Abu Dhabi on the day Crippen died? His coach and mother, who had traveled to China to support him, both expressed their concerns about the water temperature, which would reach a high above 85 degrees.
Meyer announced he was bowing out of the race, citing the unsafe conditions; only then did his mother resume breathing.
"I was sick to my stomach," she said, "because I thought he was crazy enough to push it because he wanted to defend his title and puff his chest out. When he chose not to swim, I was prouder about that than the fourth-place finish, because that decision was about character and integrity and standing up for what's right."
Read: From Walden Pond to the Olympics, Swimmer Thrives in Open Water (@NYT)