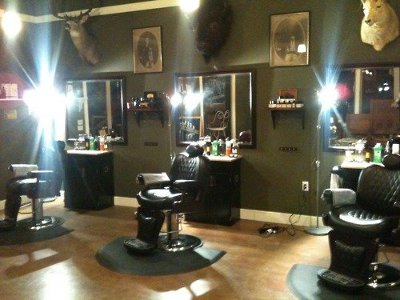 When AoM reader Gabriel Coeli recently visited the Modern Man Barbershop in Portland, Oregon, he was so impressed by the experience he wanted to write something up about it for The Trunk. Here is his report:
_______
Before you even step through the front door of Portland, Oregon's newest barbershop, you know there's something unique about the place.
Outside, perched on an antique stool with a novel splayed in his lap, is a shoe-shiner. He wears a corduroy suit and a neat paisley tie. His mustache is curly and full – he looks like an atavist of Mark Twain; his name is Sam, and today he greets me with a grin and a firm handshake.
"Welcome to The Modern Man," he says.
I pass under the spinning red, white, and blue barber's pole hung over the door, and into a wide, refurbished parlor of a classic Alberta Street Victorian home. I hear strains of classic country music over the click and pop of the vintage record player: Marty Robbins falling in love with his Mexican girl. The floor is hardwood, and on it rests the large pelt of a black bear. Trophies of bucks, goats, and buffalo hang on the walls and stare empty-eyed. On a rustic wooden table, magazines are scattered haphazardly. Field and Stream. Guns and Ammunition. And because this is Portland, Hobby Farming.
I'm greeted again–this time by a stout man covered in colorful tattoos who sports large-gauge earrings that have stretched his lobes into globes. He introduces himself as Christopher, and pours me a neat Maker's Mark–whiskey is complimentary with every haircut–and in between jovial, deprecating banter with his barbers, he tells me the story of his business.
"I've been working in and around small businesses for nearly all of my life." he tells me. "I couldn't imagine not working in one. I couldn't imagine not owning my own business."
Christopher was raised on a chili farm near Ashland, Oregon, in the dry, high deserts near the border of California. Some of his favorite memories, he says, happened on Sundays at the barbershop with his brother and father. "The barbershop was where I learned to be a man," he says. "My father took us there and let us see the men talking, let us join their conversations, and then talked to us afterward about what it means to be a man. That was so important to me."
So when Christopher decided to start his own business, he knew exactly what he wanted to do: "I wanted to build a barbershop my Dad would want to come to. I don't want to be rich. I just want to make a living working for myself, and do what I love."
The time comes for my shave and haircut. Bubba, a massive man in a white smock with his name embroidered just above his heart, leads me to one of the three barbers' chairs. Since I'm a Marine full-time and a writer part-time, I ask him for a military medium-reg. He doesn't ask me any questions; he knows the cut exactly. After an expert shearing, he leans me back and places a hot towel over my face, then lathers me up and produces a straight razor. Our conversation turns to the subject of marriage–I'm recently engaged, and she and I have been searching for venues for weeks. He tells me about his and his husband's troubles finding just the right spot for their civil union. I tell him about the challenges of raising my five year-old daughter; he tells me the challenges of raising his sixteen year-old daughter. Bubba keeps me talking and chuckling the whole way through–he's a genuine man, with a decidedly dark and absurdist sense of humor, and a contagious laugh that gets everyone in the shop going when he starts guffawing at one of his own jokes.
When Bubba's finished with me, he directs me to the classic cologne bar, featuring scents such as absinthe, mouchoir and sapera. The bottles offer rich smells, and I take a little of the sapera for myself. It smells like honey, leather, and smoke.
Christopher and I go out the front door and light up a cigar–also complimentary with the haircut–and we chat for a bit while Sam shines my shoes. "This is just the beginning," he tells me. He's got plans to open a proper haberdashery and on the second level of his building. "Men's clothes, men's accessories–anything the modern man needs."
His shop is already what Portland's modern men need–it's a barbershop, sure. But it's also a place where true manliness–not the infantile, perpetual adolescent "masculinity" so rampant in our culture–is alive, encouraged, and honored.
Next time you're in Portland, swing by The Modern Man on 25th and Alberta. It's just $18 for a cut and your choice of whiskey, a cigar, and a pick-me-up for your heart. You won't just leave looking respectable; The Modern Man will refresh your verve, and send you off with a manly smile on your clean-shaven face.
Gabriel Coeli is a freelance writer and a Marine living in Portland, Oregon. He contributes to several web pages.