Huckberry is a deal site that features special sales each week exclusively to members, and the products available change each week. We're partnering up, and I was planning on doing a post each week highlighting what products were available that week. But it's been a busy week for me, so this post is rather belated. So keep in mind that these deals are only good until Sunday.

This week on Huckberry was sports week, and there's some seriously cool stuff on sale, including: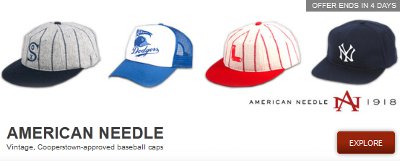 Specializing in throwback-style hats, American Needle reproduces awesome old baseball caps that span a range of time periods and styles. You will find snapback Phillies caps from the eighties and fitted wool Red Sox caps from the early 1900's, amongst many others: everything a young (or old) man needs to appease his inner sports purist.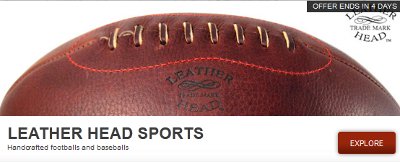 Leather Head Sports makes all of their throwback footballs, rugby balls, and medicine balls individually by hand in a workshop here in the US. I own one of their footballs, and it's awesome. Leather craftsmanship at its finest. The balls are handsome enough to be displayed and rugged enough to be used. They make a perfect Christmas gift. If you want to see how they're made, the craftsman behind Leather Head Sports did a post for AoM awhile back, taking us through the steps of making a football.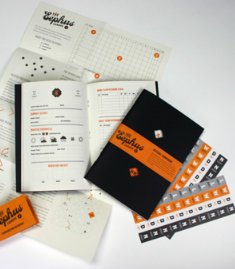 Keeping score at a baseball game by hand is the only way to go, and your pleasure will be multiplied if you use this stitch-bound scorebook which includes 20 scoresheets, a scorekeeping reference card, stickers for you to note if the game took place in day or night, and if your team won or lost, a foldout starter's guide to keeping score for anyone who is new to the art form, and autograph pages in the back for collecting player signatures. A great gift for a son's first trip to the ballpark.
There are other cool things available on Huckberry right now, like throwback baseball bats. To browse, you have to sign-up for the site. If you do, you get a $5 credit for being an AoM reader.  The reason that you must sign-up to browse and see the prices is that this is a members-only deal site, and the brands that offer their products for these special sales are only willing to offer those special prices to a small group and not to the public at large.