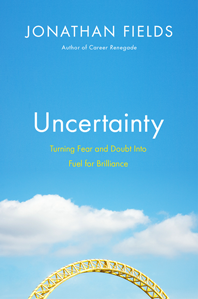 If you're an entrepreneur or do creative work for a living, there's one thing that often holds you back from reaching your full potential– uncertainty. "Will this project be a success or an utter failure?" "What will people think of this idea?" "What if I'm wrong?"
This fear of the unknown holds many people back from taking the necessary risks in order to achieve the success they want. As a guy who runs a website for a living, I wrestle with this uncertainty every day. Most days I can manage my self-doubt, but some days uncertainty gets the best of me.
In his new book, Uncertainty: Turning Fear and Doubt into Fuel for Brilliance, author and entrepreneur Jonathan Fields lays out practical advice to help individuals not only manage the uncertainty that creeps into any creative endeavor, but how to use fear and self-doubt to actually catapult you to your next level of success.
Fields' advice isn't only based on his own experience as an entrepreneur, but also on recent psychological studies in the areas of creativity, fear, and motivation. He also interviews dozens of entrepreneurs, filmmakers, and writers to see what they do to thrive despite the uncertainty they may feel. The result is a thorough guidebook to creative thriving.
Uncertainty is a must read for any man who has ambitions to break free from the traditional job path and strike out on their own. Check it out!